A student from the University College, London is presently conducting a study on the importance of mangroves here.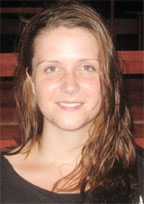 The Government Information Agency (GINA) said that Kathrine Robinson is pursuing a Masters of Science in Anthropology, Environment and Development and is conducting the study as part of her final dissertation. The focus of her study is community participation as it relates to the restoration process, the importance of mangroves to the community, the uses, benefits and the possible alternatives. Robinson has been interacting with the residents of North Mon Repos and thus far the community has demonstrated its awareness of the mangrove's purpose as a sea defence, GINA reported.
It is expected that the study would help to map the way forward in the mangrove restoration process. GINA said that Robinson is receiving support from the National Agricultural Research Institute, the Environmental Protection Agency, the Mangrove Action Committee, the Mangrove Project Office and the University of Guyana.
GINA said that Project Manager of the Mangrove Restoration Project, Bissasar Chintamanie had indicated that at present mangrove research is ongoing in the Caribbean and Guyana. This would serve well, since appropriate strategies would be sought to work along with the changes occurring along the coastline. GINA said.
Chintamanie indicated that other communities are also involved in the project. The pilot areas are Hope, East Coast Demerara, Number Six Village on the West Coast of Berbice, Number 43 Village on the Corentyne, Wakenaam in Region Three and Lima, Region Two. Rangers would be employed to protect the mangrove seedlings from destruction by stray animals and ruminants to ensure that the project is successful, GINA said.
It pointed out that public awareness campaigns are ongoing and are aimed at informing the public about the importance of mangroves and how it helps in climate change mitigation.
GINA said that government has placed significant effort on mangrove restoration since it functions as a natural sea defence. The project was first announced by President Bharrat Jagdeo. It is being funded by the government of Guyana in collaboration with the European Union with a $125M investment that will cater for the restoration of 11 kilometres of mangrove along a coastline, GINA said. It pointed out that the project was initiated in February 2010 and includes rehabilitation, protection and sustainable use of resources, monitoring and enforcement of forest legislation.
Around the Web