Delivery on climate financing is essential, United Nations Secretary-General Ban Ki-Moon said on Tuesday as he reiterated the need for world leaders to deliver sizeable financial support to developing countries to fund their efforts in mitigating and adapting to climate change.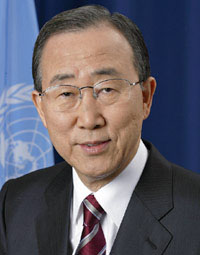 "Climate financing is an investment in a safer, cleaner, more prosperous future for all of us," Ban said in remarks at a press conference in New York, marking the end of a two-day meeting of the high-level Advisory Group on Climate Change Financing (AGF). Sources of long-term financing "must be economically sound and politically viable," Ban told reporters.
Launched by the Secretary General in February 2010, the AGF is tasked with mobilizing delivery of the funds that were pledged at the 2009 Copenhagen conference, where world leaders agreed to scale up support to reach US$100 billion annually by 2020 – in addition to $30 billion total during the period 2010 to 2012, the Government Information Agency (GINA) said in a statement.
"Delivery on these pledges is essential, it strengthens trust between developing and developed countries," said Ban. "It is crucial for building positive momentum in the global negotiations." Ban said that climate change is not going away and the risks and costs of inaction grow each year. "The more we delay, the more we have to pay in lost opportunities, resources and lives- that is why this advisory group is so important," he said.
GINA pointed out that President Bharrat Jagdeo is one of three heads of government invited by the Secretary-General to sit on the advisory group. There are 17 other principals including ministers, private sector officials, and experts on public finance and development. Originally, the three heads were joined by former British Prime Minister Gordon Brown, but since his election defeat, he is no longer a member of the group.
The advisory group is expected to submit its final recommendations in October. "We are confident we will submit a very robust report," AGF co-chair and Ethiopian Prime Minister Meles Zenawi was quoted as saying.
"What matters most is that we craft ways to deliver financing of the scale required for the challenges we face. That will require facing up to some tough political decisions at an international level. Along with Prime Minister Meles and others from the developing world, we are working to identify equitable and realistic proposals for how this can be done," Jagdeo added.
The AGF report will feed into the UN Framework Convention on Climate Change, in time for the Conference of the Parties that is set to take place in Cancun, Mexico later this year. While in New York, President Jagdeo also had a set of bilateral meetings, including with the new United Kingdom Secretary of State for Energy and Climate Change, the Rt Honourable Chris Huhne, MP, GINA reported.
It said that Jagdeo also met Norwegian Prime Minister Jens Stoltenberg, and the two leaders announced that Norway will pay US$30 million by the end of this month for Guyana's forest climate services, as set out in last November's agreement between the two countries. Norway intends to pay up to US$250 million between 2010 and 2015, and Guyana will invest these revenues in the country's Low Carbon Development Strategy (LCDS).
Around the Web