– more work to be done among youth; on condom use
The Millennium Development Goals (MDGs) represent a global partnership to reduce extreme poverty by setting out a series of time-bound targets, with a deadline of 2015. In 2000, world leaders made a historic commitment: at the United Nations Headquarters in New York to eradicate extreme poverty and improve the health and welfare of the world's poorest people within 15 years. The commitment, adopted at the Millennium Summit in September 2000, was described in the United Nations Millennium Decla-ration. It was expressed in eight time-bound goals, known as the Millennium Development Goals (MDGs).
To assess where Guyana is in terms of the targets outlined, Stabroek News continues a series looking at goal 6: combat HIV/AIDS.
To be on pace with the targets set for HIV/AIDS Guyana is expected to achieve, by 2010,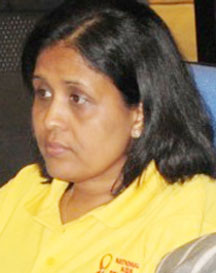 universal access to treatment for HIV/AIDS for all those who need it. Reports suggest the country has reached that target though some doubts still persist, but Guyana continues to wrestle with other targets including better promotion of condom use and educating a young population which remains at serious risk.
Of major concern in the local fight is the indication that messages about the epidemic appear to be missing many young people; a realization which has hit home following the results of several behavioural surveys conducted among in and out of school youth. The most recent survey points to an increase in sexually transmitted infections (STIs) among the young at-risk population.
The rise in STIs among that particular group is cause for major concern Director of the National AIDS Pro-gramme Secretariat (NAPS), Dr Shanti Singh said. She said the health sector needs to work more aggressively with young people, targeting them through in-school programmes and public awareness campaigns. However, Singh believes the health sector cannot achieve its goal with respect to young people if it works in isolation, adding that every stakeholder needs to be onboard including government agencies, related ministries, non-governmental and faith-based organisations.
"The surveys are telling us that we need to work harder with young people… we are aware and we plan to focus on a number of things including issues such as substance and alcohol abuse. We need to be looking at some of the things that lead to unprotected sex," Singh said during a recent interview. She argues that young people ought to be a priority, adding "there is a lot of work to be done".
HIV/AIDS appears to have stabilized in most regions, according to the United Nations although prevalence continues to rise in Eastern Europe, Central Asia and other parts of Asia due to a high rate of new HIV infections. Sub-Saharan Africa remains the most heavily affected region, accounting for a large percent of all new HIV infections within recent years.
The UN in a report published this year on the progress of the MDGs pointed to a lack of information about HIV/AIDS among young people. The UN said that though some progress has been made, comprehensive and correct knowledge of HIV among young people is still unacceptably low in most countries.  But the UN also reported that many countries have been empowering women through HIV/AIDS education, citing Guyana among other countries which have reported remarkable increases in HIV prevention among young women.
This observation by the UN was addressed by Singh in the context of what Guyana has done to address the increasing feminisation of HIV/AIDS. Singh reported that for the first time in years Guyana has recorded fewer infections among women in comparison to men.
Fewer women
infected last year
Singh said that based on the estimates the prevalence rate in the country was at 1.9 per cent at the end of 2008, which represented about 9,000 infections in general countrywide. She said the estimated pool includes new and old infections. It was further estimated that there would be fewer than 500 new infections every year.  The exact number is not known, Singh said, noting that the estimate is based on the UNAIDS model.
In terms of numbers there were around 1,176 infections that were notified to the ministry at the end of 2009. The figure does not mean they are all new infections, Singh said, pointing out that some cases were diagnosed for the first time. "There is a difference between new infections and those diagnosed for the first time," she said, explaining that some of the persons in the pool could have been infected years ago and were not aware.
The Health Ministry found that more women came forward and more were being diagnosed HIV positive last year, but it also realised that despite this more men received positive diagnoses; 600 men to 576 women. It was not significantly more men, Singh said, but for the first time in eight years the country saw a switch. When the epidemic first started, primarily men were being diagnosed; particularly Men who have Sex with Men (MSM) and overtime infections among women grew.
In the treatment programme, there is a larger percentage of females accessing the service. Singh said the treatment outcomes, which include survival rates and adherence performance, point to the fact that women have been doing better than men. More women are keeping regular appointments, having fewer opportunistic infections and facing fewer hospitalizations among other things. "When you profile the two genders you see that women are doing better than men," she said.
She said that in 2002 a quick and short study was done on persons who entered the national care and treatment centre to assess how long they were living, and it found people lived for six months initially, then antiretroviral (ARV) drugs were introduced and people began living longer. Today, she said, people are living longer.
Treatment expanded
Treatment has expanded over the years since the national programme started in 2002. Singh said there are now 19 treatment sites and that the sector has moved from treating 203 patients in 2003 to having some 2,832 in 2009 on anti-retroviral therapy.  Importantly, she said there was a presence in every region. She said the number of cases in the hinterland areas is relatively low and those on treatment are also low.
Nationally, a vast majority of patients are on ARVs, close to 70 per cent of the patients (69.84) on register. The ARV regimen has changed over the years to facilitate better treatment outcomes, Singh said, noting that patients here have been using a first-line regimen for some three years now.  "Not only do we try to provide a higher quality of care, but we also monitor the quality of care that we provide," she added.
According to her, in 2008 the sector introduced an initiative called, 'Health Qual', which is monitoring the quality of healthcare being delivered. She said a report on the first ever client satisfaction survey which was conducted at several clinics is being compiled as the sector is seeking the patients' perspective on how they are treated at hospitals and clinics.
The Prevention of Mother-Child-Transmission (PMTCT) programme continues to be strong, Singh said, noting that acceptance of testing remained over 95 per cent last year.  The programme was recently expanded and figures last year indicate that some 11,767 mothers were tested and counselled and of those 130 HIV pregnant mothers were recorded.
She said also that there are specific policies for orphans and vulnerable children, citing several initiatives which they have collaborated on with Ministry of Human Services and Social Security. She said too that there are mechanisms in some communities for orphaned and vulnerable children such as soup kitchens and evening classes.
Guyana is on pace to reach the targets set for the MDGs, Singh added confidently, but she also noted that "a lot of work is still to be done". She said the sector has to focus and do more on prevention, in addition to making youth a priority. She noted that condoms remain a challenge because while distribution has expanded, people continue to opt against using them.
Around the Web