Former coup leader and convicted drug trafficker Desi Bouterse was yesterday elected President of Suriname by the country's parliament.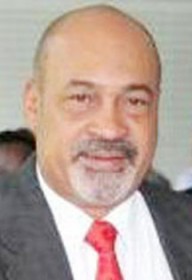 Almost two months after the Bouterse-led Mega Combination (MC) Coalition captured the most seats in the May 25 parliamentary and regional elections, Bouterse was elected President after securing 36 votes in the 51-member National Assembly.
His opponent, Chandrika-persad Santokhi from the New Front Alliance (NFA), secured 13 votes. Bouterse's running mate Robert Ameerali was elected as Vice President.
The MC had captured 23 seats in the elections, which was short of the two-thirds majority needed to elect a new president and vice-president.  The MC got support from Ronnie Brunswijk's A Combination (AC), which had won seven seats and from the Paul Somoharjo led Peoples' Alliance, which captured 6 seats.
Reports coming out of Suriname yesterday said that Bouterse and Ameerali will be inaugurated on August 3. The cabinet ministers are expected to be installed on August 16.
A report from Reuters said that "when the results of the vote were read out, supporters of Bouterse cheered in the National Assembly and outside in the Independence Square, where the event was being broadcast on big screens". The supporters also let off fireworks as they celebrated, the report added.
According to the report, after the result was announced an emotional Bouterse said: "I reach out my hands to all Surinamese because we need all Surinamese together to build up this country. We Surinamese are the rightful owners of this country, not foreign nations."
Meanwhile, according to Reuters, the US Ambassador to Suriname, John R Nay, said he was pleased Bouterse was reaching out to his opponents.  "We're prepared to work with any government that shares our values and that we can work together with on our mutual interests. We have many," he reportedly said.
Apart from being a convicted drug trafficker, the 64-year-old Bouterse and 11 others are currently being tried in a military court on charges of murder, for the killing of 15 opponents while he was head of a military junta in 1982.  Bouterse also took part in two coups in Suriname in 1980 and 1990.
"We cannot ignore that Bouterse has been sentenced in the Netherlands to 11 years imprisonment for drug trafficking," Dutch Foreign Affairs Minister Maxime Verhagen said in a statement, the Reuters report stated. "He is only welcome in the Netherlands to serve his sentence," he added.
Before yesterday's vote, two human rights organisations in the country had asked the National Assembly to reject the candidacy of Bouterse.
Bouterse is particularly popular among the grassroots and young people of Suriname.
During his campaign, he pledged that his party would bring significant change to the country's education system, push the ICT sector, develop and consolidate the country's major industries, create employment and transform the housing sector.  He also promised major infrastructural development such as bridges leading to border countries, a highway from Suriname to Brazil, and a sea harbour.
In a brief exchange with this newspaper shortly after casting his ballot, Bouterse said that should his government assume office one of the first agenda items would be to begin dialogue with neighbouring countries to see how they could co-operate and work in the best interest of both countries.
Regarding Guyana, Bouterse said the governments of Guyana and Suriname had shared good relationships in the past, and he referred specifically to the 1980s.
He spoke about building a bridge across the Corentyne River but declined to elaborate on the controversial New River Triangle, which has been the source of a longstanding territorial dispute between Guyana and Suriname. New River is internationally recognised as being Guyana's.
Around the Web