-stabber also set shop on fire
Police ranks were forced to bury the body of John Philander who was hacked to death at Echerak, Region Eight owing to its advanced state of decomposition and the difficulty in getting it out of the dense forest.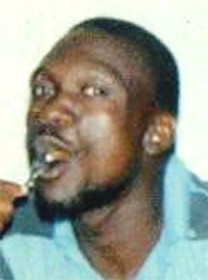 Divisional Commander David Ramnarine made this disclosure to Stabroek News yesterday adding that "It was buried with a view of exhumation".
He added that the police team that was sent to the area to investigate the incident arrived at the location on Monday afternoon. This would have been after several days of travelling.
Ramnarine had told this newspaper on Tuesday that a forest ranger was assisting with the preservation of the body. Stabroek News later learnt that diesel was being used to slow the rate of decomposition.
Philander's uncle Phillip Bynoe when contacted in Linden said that he has accepted the police's decision since he believes they had no other choice.
According to Bynoe it would have been possible to bring the body out if the ranks had access to a helicopter. "I think that they tried their best… It would not have been easy walking through jungle for two to three hours with a decomposing body", he added.
He said that he has been in touch with the police and presumed that statements were taken giving the ranks a detailed account of what transpired.
Bynoe told Stabroek News during the telephone conversation that the first reports he received were not accurate. He said that he is now being told that the two men did argue over missing money and raw gold last Friday night. Subsequently, the suspect left and Philander went to bed. Bynoe added that hours after the confrontation, the suspect returned to the shop and chopped Philander on several parts of his body.
Previously Bynoe was told that the suspect was armed with a cutlass and a knife and that Philander was sitting in his business establishment when he was attacked.
Bynoe told this newspaper yesterday that after the suspect fled, persons in the area made attempts to fetch the body out but abandoned their efforts because of difficulties getting through the thick forest.
While they were making those attempts, he said, the suspect returned to the shop and set it alight. It was eventually destroyed by the flames and nothing was salvaged.
Bynoe said that police will find it exceedingly difficult to catch the suspect due to the terrain but it is now up to them to pursue the matter.
"In Guyana you got to be practical. Cases get cold very quickly and then another one pops up and takes priority. I have to be realistic", he added. Since there is no body, he noted that relatives will have to come together and plan a memorial service for Philander who is about 50 years old.
Philander had been operating his shop in that area for several years and also did small scale mining.
The suspect was known to him and was left in charge of the shop while he travelled out of the area to look after business in Linden and Georgetown.
When Philander returned, items were missing from the shop and raw gold along with money could not be accounted for.
This is what led to the heated argument and later the murder.
Police investigations into the matter are continuing.
Around the Web