Guyana and Venezuela yesterday signed five energy and trade agreements in Caracas, the French news agency Agence France Presse (AFP) reported last night.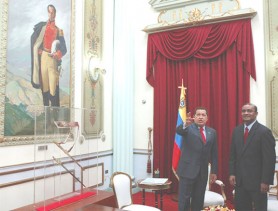 AFP said that President Bharrat Jagdeo and Venezuelan President Hugo Chavez signed pacts that seek to "reinvigorate" their relations in order to overcome their "traditional differences" on the border.
The news agency said the longstanding controversy between the two countries was discussed in private between the two men. Up to press time there was very little information emanating from the Government Information Agency here on the outcome of Jagdeo's visit to Caracas.
AFP said the two governments signed five agreements, which include the sale to Venezuela of 50,000 tons of rice with oil subsidies which will be paid for through the Petrocaribe energy cooperation mechanism.
It is also expected that Venezuela will export to Guyana, pearl urea, a type of chemical fertilizer, and jet fuel.
Georgetown and Caracas have also agreed to set up a high-level committee to assess various areas of joint cooperation, Venezuelan media reported. Jagdeo arrived early yesterday morning at the Simon Bolivar International Airport, where he was met by Venezuelan's Foreign Affairs Minister, Nicolas Maduro. The president was accompanied by Foreign Affairs Minister, Carolyn Rodrigues-Birkett, Minister of Agriculture, Robert Persaud, Minister of Home Affairs, Clement Rohee and Director General of the Ministry of Foreign Affairs, Elisabeth Harper, the Government Information Agency (GINA), reported last evening.
GINA said that Jagdeo engaged in talks with Venezuela's President, Chavez and the visit signals a deepening of relations between the two states, especially in the area of trade. State-run Radio Nacional de Venezuela (RNV) said last evening that Jagdeo met with Chavez at the Miraflores Presidential Palace where the trade and energy agreements were inked. Before the meeting, Chavez said that "some commitments of cooperation" would be signed, the European Pressphoto Agency reported. He did not give details, the report said.
Meantime, during a press conference with Rodrigues-Birkett earlier, Maduro said that a Guyana-Venezuela road link under the Initiative for the Integration of Regional Infrastructure of South America will be discussed.  Venezalana de Television (VTV) reported him as saying that work is already being done on this and this project is of high interest.
A bilateral commission is expected to continue meeting today. The meetings will review all outstanding issues between the two nations "in order to revitalize and promote them", reports said.
It was agreed that in November, the high-level bi-national commission will look at issues of social cooperation, food and energy, VTV reported.
According to the report, a pipeline is to be discussed. "We have reviewed the various policy issues, energy, diplomatic and have a broad comprehensive agenda", Maduro was quoted as saying. He also announced that the countries have decided to activate the bi-national Commission to Combat Drug Trafficking and will soon meet to exchange information.
Meantime, press reports said that Jagdeo was declared a "Distinguished Visitor" and received the keys to the city of Caracas during a ceremony at the historic Plaza Bolivar, where he also laid a wreath at the Simon Bolivar monument.
An official statement from the Presidential Palace described the meeting as "stimulating" as Guyana and Venezuela deepened their relationship. Miraflores pointed out that trade between the two nations was nearly US$3M during the first five months of 2009, being more favourable to Venezuela whose exports amounted to 70.74% of trade. The statement said that relations between and Caracas have been boosted by Venezuela's foreign policy. Trade between the two nations reached US$2.9M during the first five months of 2009 with Venezuela exporting goods worth US$2.05M or 70.54% of trade.
The statement said that Venezuela's exports to Guyana are composed primarily of metals and tools (36%), minerals (19%), food (14%) and chemicals (13%), while Guyana mainly exports wood to Venezuela.
Jagdeo's visit to Caracas coincided with visits by the leaders of the breakaway regions of Abkhazia and South Ossetia.
Only four countries, Venezuela, Russia, Nicaragua and the Republic of Nauru have recognised the two separatist regions as independent states. The two regions broke away from Georgia following a war in 2008, during which they received support from Russia. It is not clear if Jagdeo also met with them.
Venezuelan media spoke glowingly of the "good bilateral ties" and relations between Guyana and Venezuela. Several spoke of the controversy over Guyana's Essequibo territory, which Venezuela claims. According to the official Venezuela News Agency, relations between Guyana and Venezuela are at the best in history because of the closer relations between both governments and the "friendly conversations" around the Essequibo controversy.
The last high level meeting between representatives of Caracas and Georgetown was held at United Nations headquarters in October 2009. Maduro and Rodrigues-Birkett met following the appointment of Jamaican, Norman Girvan as the new UN special mediator to resolve the controversy.
Around the Web