Assistant Superintendant of Police Ivelaw Murray was laid to rest yesterday after a simple but emotional ceremony and relatives remain adamant that there was foul play involved in his death.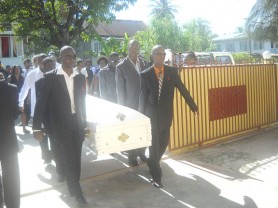 Murray, age 32, of Better Hope, East Coast Demerara, according to the police, killed a constable in the barracks of the Springlands Police Station before turning the weapon on himself.
Since the July 3 incident there have been several revelations leading to suggestions that this was no murder/suicide.
Yesterday emotional relatives called for justice and a full investigation into the death.
Many turned up at the Lot 83 Phulwarie Street, Better Hope home to get a glimpse of Murray's remains and to grieve with his wife, child, parents and other relatives.
Speaking to reporters, his mother Janitta Daniels said "I don't like the way my son was murdered.
Why is the Guyana Police Force covering this up?" The woman said that following the death of her child, she has been given information as to the reason behind his killing.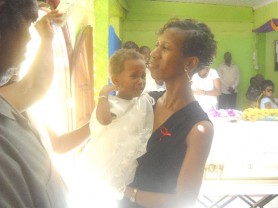 She said that no senior official has visited her to express condolences and Police Commissioner Henry Greene has been very arrogant towards her. The woman recalled that last Thursday she spoke to Greene regarding her son's death and had inquired whether he will be given a police burial.  She said that he shouted at her and asked her why she was questioning him.
"I am not going to rest until I get some satisfaction …Someone is going to come forward. We are going to find out the truth some day. It was a brilliant officer that went down there", she said adding that her son died doing what he loved best – being a policeman.
She added that she had also received information that there was no gunpowder residue on his hands which is even more suspicious.
Meanwhile, Murray's father, former Senior Super-intendent Daniels said that he is not satisfied with the investigation into the incident.
"Everyone knows that it is murder. A man cannot shoot himself twice in the head in those positions that he was shot!"
He later stressed that each shot would have been fatal and in spite of this the Force is still treating the death as a suicide. "Somebody is burying their head in the sand", he said.
He said that the corporal who reportedly saw the two men arguing and subsequently found the body of the constable should have been questioned.
Relatives and close friends of Murray told Stabroek News yesterday that they just cannot accept that he had committed suicide since the evidence points to murder.
According to his cousin Kayode Lambert, Murray served the Force with pride and dignity for fifteen years. He said that Murray's sole mission was to serve and protect but "in his prime he was cut off".
From his home the body was taken to the Glory Light Tabernacle Church in Plaisance where there was a simple ceremony. Murray was later buried at St. John Roman Catholic Burial Ground at Sparendaam.
In a press statement, hours after the men's deaths, police had reported that it was a case of murder/suicide. Police said that around 00.55 hrs on Sunday, Murray, who was in charge of the station, shot Constable Kevin Shepherd to his head with a .38 service revolver in circumstances that were unclear.
After the shot was heard, Murray was reportedly seen walking swiftly away from the station compound.
Around 03.25 hrs, two and a half hours after Shepherd was discovered dead, police said, they found Murray's body in his house "with a suspected gunshot wound below the chin. The force firearm was recovered next to the body."
A post-mortem examination done by a pathologist found that Murray sustained two gunshot wounds. Police however remain silent on the matter.
Around the Web