A Private Sector Commission (PSC) team lead by Chairman Ramesh Dookhoo met with their Kuwaiti counterparts on Monday to discuss possible partnerships and investment opportunities.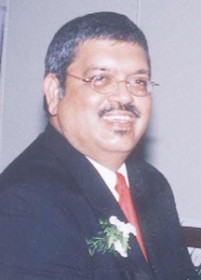 According to a press release the Kuwaiti delegation comprised Chairman of Kuwait Travel and Tourism Agencies Association Khalid Moh'd Al Hamad, Nasser B Al-Sharan of the Kuwait Industries Union and Asaad A Albanwan, president of the Kuwait Union of Investment Companies.
The local team including PSC  Executive Director Roubinder Rambarran, President of the Tourism and Hospitality Association of Guyana, Paul Stephenson and President of the Guyana Association of Bankers, John Tracey made a brief presentation on the tax laws, incentive regimes, land ownership policy, the macro-economy and investment opportunities in various sectors covered by the PSC. The team also discussed the possibilities of information sharing in the tourism, manufacturing, banking, construction, agriculture, mining and commerce.
In his address Stephenson described Guyana's tourism product to the Kuwaitis and presented them with a package covering pertinent information on the tourism sector. Dookhoo and Tracey made presentations on Guyana's handling of the global economic crisis. They also pointed out that the local currency is stable and that it appreciated in a small measure against the US dollar. Successes in ICT, manufacturing, construction and agriculture were also discussed.
The Kuwait delegation "was very satisfied" with the data presented and expressed enthusiasm about investing in Guyana. They said trade to Kuwait would be "trouble-free" and that there are no taxes on food but a standard 5% tax on other services.
The meeting agreed that the secretaries of the private sectors in both countries will start off by sharing business propositions/opportunities available in Guyana which will be posted on the website of the Kuwait commerce chamber where it will be made available to 23,000 members. Local businesses interested in accessing information on joint ventures, strategic partnerships and other facts about Kuwait are advised to contact Rambarran.
The release said PSC Vice Chairman Yog Mahadeo, President of the Guyana Manufacturing and Services Association and PSC Trade and Investment Chairman Clinton Williams, Vice President of the Guyana gold and Diamond Miners Association Charles Da Silva and Senior Vice President of the Guyana Chamber of Commerce Eon Caesar also attended the meeting.
Around the Web