A local entertainer is calling for justice after he was severely beaten by about 50 persons on the Railway Line at Plaisance, early Tuesday morning following his performance at a wake.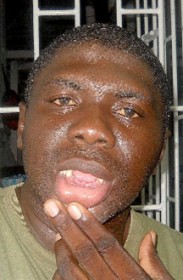 Andrew Dundas called 'Super Cat' was knocked unconscious during the incident and lost all of his lower incisors. Police officials said the matter was reported at the Sparendaam Police Station but they have been unable to arrest anyone.
An upset Dundas told Stabroek News that the entire episode stemmed from persons refusal to pay him the $18, 000 fee he had charged to perform at the wake which was held in Plaisance.
He explained that initially he had charged $25,000 but reduced the price after the persons who hired him said they were unable to pay that amount.
He said that originally, a woman had hired him to sing from 9 pm to 1 am at her mother's wake. He said after he had done this, a sister of the woman "started causing a problem". This led to a physical altercation between, Dundas and the woman during which he was called a thief.
Subsequently, the woman told him to go on the roadway and she would take the money to him. The entertainer told this newspaper that he went to a car parked on the railway line which he had hired, to wait on the woman. At this point, he did not see his partner who played the keyboard and the driver wanted to leave.
But Dundas said he decided not to go, since the partner did not know the area.
He said he was relaxing in the car with the doors and trunk open, when "fifty something people attack me in de car.
They beat me till ah get unconscious. Ah din feel like meh life din coming out meh body," he said adding that as he slipped in and out of consciousness he heard two of his attackers arguing over whether he should be killed.
"Dem knock out all meh teeth from meh mouth and when ah went to the police station ah din bleeding through me nose," Dundas added.
He said that morning he not only lost the money from performing but also $200,000 in equipment.
The man said that the police were not working hard enough even though he had given them the call names of two of his attackers.
He fears he will get no justice, since the woman who hired him along with other relatives will be leaving the country today.
He opined that the family just did not want to pay him and decided to take advantage of him.
Around the Web