In a grisly attack, a Berbice mother of three was yesterday afternoon stabbed to death by her estranged husband who later failed in his attempt to take his own life.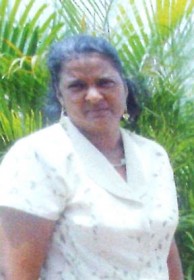 Yashpattie Samaroo, 43, of 175 Second Street Johns, Port Mourant succumbed to a long, gaping slash to her throat as well as to stab wounds to her chest and back. Police later searched the home of the man, Kumar Ranjisingh, 43, a cane cutter and discovered that he was hanging from a rope and untied him. He is in custody.
Reports are that Samaroo walked out on the man a few months ago because of continuous domestic abuse and was living with her mother. He apparently could not deal with the rejection and would stalk her and threaten to kill her.
The events rocked the rural community, which was abuzz yesterday about how it could have happened.
According to Samaroo's brother, Thakurdeo Budhoo, the woman took her daughter Amanda with her to a nearby shop in order to clear debts. Budhoo said when they left home Ranjisingh "stalk she." He added, "He does always do dah."
Once the woman was inside the shop talking with the shop owner, Ranjisingh reportedly approached her from behind, blocking the shop entrance.
The woman tried to get past him but could not despite her protests. She tried to force her way out of the shop but he whipped out a knife and dealt her the stabs. When relatives returned to the shop, Yashpattie was lying face up, and bleeding. A crowd later gathered and a passing police patrol noticed and stopped to investigate.
One resident, who did not want to give his name, said Ranjisingh would walk the street day and night, constantly asking whether anyone had seen her.
The woman had been separated from him on previous occasions but would return shortly after because he always begged her to. This time, Budhoo said, Ranjisingh again pleaded with her to return home but she refused. He said the man wanted his sister to "go home and cook fuh am and since crop start back make am worse…"
In addition to her daughter, Samaroo was also survived by two sons, 21 and 16.
Around the Web