Magistrate Adela Nagamootoo sentenced a New Amsterdam man to two years imprisonment after he confessed that he had attempted to break and enter a place to commit larceny.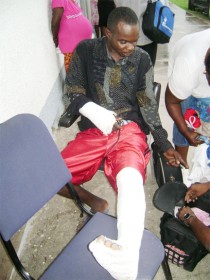 Claude Howard, 34 years of Angoy's Avenue had been taken into the New Amsterdam Magistrate's Court on Friday on a wooden chair that had been converted into a stretcher. He had sustained injuries and was taken for treatment at the New Amsterdam Hospital Physiotherapy Department.
Police Inspector Satrohan Dayaram had told the court that Howard had removed three louvre window panes from a building in an attempt to gain unlawful entry when Security Guard Charles Layne, who was on duty at the time, saw him and raised an alarm. Public-spirited citizens responded and the group allegedly dealt the defendant a beating resulting in him suffering several broken bones.
On his second appearance in court Howard's right hand and leg were heavily bandaged. When the court asked about his appearance he said that he had been assessing a building while two accomplices were standing guard when a security guard noticed and raised an alarm. He then said the security guard "beat him up" causing him to sustain "broken ribs, leg and hand."
In his submissions Lance Corporal Sherlock King told the court that Howard had been convicted previously on matters of a similar nature.
Howard had been remanded to the New Amsterdam prison until Monday pending his sentence.
Around the Web