Terrified residents looked on as a man viciously stabbed his employer to death on Tuesday afternoon at a street corner in De Groot Housing Scheme and then calmly walked away. The suspect has since been arrested.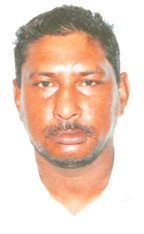 Some time around 12.30 pm that day the suspect, in his early 20s, attacked 43-year-old Nandalall Bopat with a knife. He reportedly stabbed him more than four times about the body and at the end of the brutal attack Bopat's intestines were protruding.
When Stabroek News visited the area yesterday afternoon residents were still unwilling to speak. However, several indicated that they were not about to intervene in the argument between Bopat and his attacker on Tuesday since the man still clutched the "sizeable" blood-stained knife.
"All I know is that after I hear de noise and I look outside I see he [Bopat] on de ground and the next one that stab he was walking down the street…up to now I can't tell you is wah they been arguing about," one resident told Stabroek News.
Police, in a press statement issued a day after the incident, said they were investigating the murder of Bopat who is a fisherman. The incident, they said, occurred in the De Groot Squatting Area, Uitvlugt, West Coast Demerara.
Investigations, according to them, revealed that Bopat was involved in an argument with another man during which he was stabbed about his body. He was taken to the Leonora Cottage Hospital where he succumbed while receiving medical treatment.
Acting on information received, the police arrested the suspect at about 1.40 pm yesterday at Zeelugt, East Bank Essequibo. There was no mention of how soon the man would be charged.
When Stabroek News visited Bopat's Lot 31 De Groot Squatting Area home yesterday several relatives were there comforting his widow. Doreen Sahadeo–Siranauth said that she'd been with Bopat for the past 23 years. While they had no children together, the woman said she had four from her first marriage; they'd adopted a little boy who is now 12 years old ago.
On Sunday, the woman recalled, she and the suspect had an argument. The man, she alleged, used abusive and threatening language to her.
"Sunday night my husband [Bopat] was at work and we had to get one of dem boys to come sleep at the house because we was afraid…he [the suspect] tell me that he going to chop us up," the distressed woman recalled.
Just after the argument with the suspect, Sirnauth said she went to the Leonora Police Station to make a report. However, after waiting for more than two hours on Sunday night the woman said she gave up and returned home. She again went to the same station around 7 am on Monday and after waiting for more than three hours she left.
"I see de same policeman all two times and still they didn't come and do anything," the woman said.
The suspect, she explained, had been living across the street from them for about a year and had also been working with her husband. Hours before the man killed Bopat, Siranauth said, he'd been to their house to collect his money from her husband for work he'd done.
Bopat, the woman recalled, returned home at about 10am on Tuesday. He showered, ate and went out on the road to spend some time with his friends. He again returned home some time after 11 am, Siranauth said, and decided to take a short nap.
However, a short time later Bopat suddenly got up and said that he was going to his friend's house to charge his cellular phone. She explained that they did not have electricity and it was  normal for him to go there for that purpose.
"Lil after he left and say he going and charge he phone we grandson [the adopted child] came screaming to me that he get stab up and he on the road with plenty blood around he," Siranauth said.
After hearing this, the woman said she became "confused" and decided to stay in her yard. Neighbours and relatives, according to her, rushed to assist Bopat. A short time after he was wounded a neighbour rushed him to the Leonora Cottage Hospital.
Some time after they'd arrived at the hospital, the woman recalled, she was informed by a nurse that her husband needed to be rushed to theatre for emergency surgery. Later she learnt that there was no ambulance.
"Is a good while after we reach there then a police show up and by then it didn't make no sense because he de done dead by then," she said.
Siranath believes that had the police acted since Sunday night when she'd gone to them then the horrible circumstances which led to Bopat's death could have been avoided.
"I don't know what else to tell you," Siranauth stated. "I am alone now to fend for myself and our grandson and all I want is for them to charge this man."
She further told this newspaper that an autopsy will be conducted on Bopat's body tomorrow.
Siranauth also expressed concern for the welfare of the suspect's family. She said that he is the father of four children, one of whom is only two weeks old and, like Bopat before his demise, is his family's sole provider.
Around the Web