The Umana Yana at Kingston, Georgetown was recently restored by 39 Amerindians of the Wai Wai tribe, including two females, and after further refurbishing the structure will be ready for public use in about one month, the Government Information Agency (GINA) reported yesterday.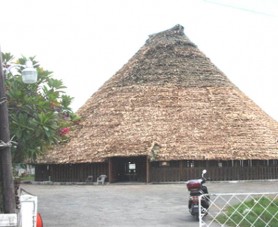 The giant benab which is a national monument will be equipped with new furnishings and a  sound system and the floor and counters will be renovated.
The restoration team painstakingly affixed over 500,000 troolie palm leaves, held together by vines gathered from the remote St Cuthbert's Mission, to restore the Umana Yana, the meeting place, to its original appearance.
After three weeks, GINA stated, the team of workers  led by Captain Paul Chekema from Gunn's Strip, a remote community in Region Nine,  completed the task and  handed over the national monument to the Ministry of Culture, Youth and Sport.
The benab was originally built by more than 60 Wai Wais in 1972 to facilitate the first Non Aligned Monument meeting. The construction then took some 80 days and cost about $26,000.
Meanwhile, prior to the repairs, the Culture Ministry had awarded a $16M contract to Chekema and his team for the rehabilitation, as the present generation of the village vowed to continue the tradition of preserving the national monument.
Despite heavy rainfall, the determined Wai Wais ensured the project was completed on time, GINA noted.
Permanent Secretary of the Ministry of Culture, Youth and Sport, Alfred King has expressed his gratitude to the workers for a task well organized.
King said that they met all the requirements and the structure will again function effectively. Captain Chekema stated that the project was challenging since it was difficult to acquire materials but it was completed after a lot of hard work.