A plan to provide computer banks to Amerindian communities as part of the government's goal to expand information technology linkages countrywide was announced yesterday by President Bharrat Jagdeo at the launch of Amerindian Heritage Month celebrations.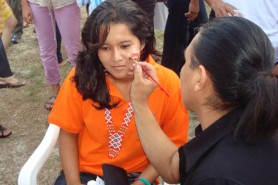 Jagdeo made the announcement while addressing Ministers, MPs, members of the Diplomatic Corps and other members of the indigenous community at the Amerindian Village, Sophia, where activities kicked off. The launch has now paved the way for month-long activities in Georgetown and in Amerindian communities. The theme for this year's celebrations is "promoting sustainable livelihood and cultural heritage while transforming our village economies.
Jagdeo said that in order to begin improvements in the lives of Amerindians, the extension of information technology linkages was necessary. To this end, he explained that within the next two years in the larger communities, a computer centre will be set up which would allow for villagers to access a bank of computers with internet access. Additionally, he also emphasised the benefits of "e-medicine," which he said would tackle the problem of distance between hinterland communities and hospitals in Georgetown and would improve diagnosis. With the government's acquisition of its own overland fibre optic cable, Jagdeo said that it will be able to connect all institutions of the state to help its people.
He also urged Amerindians to see the benefits of the Low Carbon Development Strategy (LCDS), noting that with it Guyana has a unique product which can be traded. "No Amerindian land will be pledged as part of the LCDS-only if they want to," he assured, while also noting that $8M out of the funds received from the Norwegian government will be used to assist in the implementation of village development plans in Amerindian communities. He added that ideally the projects should focus on economic activities which would create jobs and improving food security. Further, in a bid to allay concerns about how the money will be spent, he said that the "strongest fiduciary, environment and social safeguards" will be put in place to ensure that the process could withstand an audit anywhere in the world.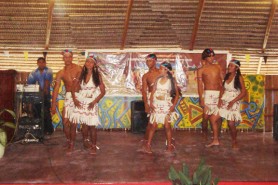 He also repeated the government's plan to outfit 10,000 Amerindian households with solar panels. The initiative has started with 1,000 households and would be rolled out fully within three years.
Commenting on the state of healthcare in the hinterland, Jagdeo said that while the programme has expanded to include more health huts and hospitals, he was not satisfied. He stressed the need to elevate the health care standard by increasing the number of medexes and doctors.
He also said the principle task which faced Amerindians was to improve their livelihoods without compromising their cultural growth and preservation and he expressed his deep respect for Amerindians, whom he said have been able to do much with little as against people on the coast who want everything done for them.
In her address, Pauline Sukhai, Minister of Amerindian Affairs informed that a dictionary in five Amerindian languages-Arecuna, Akawaio, Arawak, Wapishana and Warrau-had been completed and she said that this was a positive sign that the documentation of Amerindian languages would be done in the near future.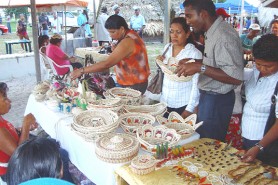 She added that the theme selected for heritage month was important since it placed prominence on livelihood options while striking a balance among social, economic and productive sectors which would result in a modern landscape. In this regard, she noted that she was proud of villages in regions 7, 8 and 9 who have been able to preserve their language and their traditional means of cultivation and food. "Amerindians should make a conscious effort to make use of resources and recognise that they should be their own agent of change," Sukhai said.  Additionally, she pointed out that growth in economic and productive sectors would lead to employment generation and sustained income in the long run.
Meanwhile, Dr. George Norton of the Guyana Organisation of Indigenous Peoples (GOIP) said that it was important for Amerindians to learn about their history and their language. He said that through the churches, Amerindian had lost much of themselves. He issued a call for the return of the indigenous naming of villages and babies and more involvement in the Alleluia church which he said was the soul of indigenous peoples in Guyana. He said that the time had come for indigenous peoples to assume the position of power and he suggested that Sydney Allicock would make a good president.
Both Jagdeo and Sukhai paid tribute to the life and work of the late Dr. Desrey Fox whom they said left a void with her passing. Jagdeo said that for progress to prevail, "we need to work together and not follow who deh pun top." He said that we constantly see each other through racial eyes and it was necessary to break down that barrier.  "Young people take the country back, mould and shape it, don't let older folks to dictate to you," he encouraged.
While Toshao Bernard Laud of Waramuri, this year's heritage village invited everyone to come to his community to be part of celebrations, an experience he said they would not regret.
He described his village as one of the fastest developing villages which has much to offer their visitors.
At the launch, the audience was treated to songs and cultural dances from groups from various Amerindian communities. Representatives from Amerindian organisations based in Georgetown brought their greeting for the month long celebrations.
Around the Web