– they're only receiving promises, they say
(This is the 6th part in a series on the Grow More Food campaign)
It is cherry-picking time on Edward Patterson's farm at Laluni and several workers harvest thousands of the little red fruit under a blazing sun.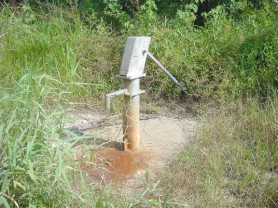 "This wuk is plenty wuk," Rose Patterson says as she crouched at a tree, filling a bucket with the fruit. "Sometimes we tek rain and all with it." Sweat-covered workers smile and continue picking the fruit which will be sold to Demerara Distillers Limited. The Patterson's cultivate 18.6 acres of land at Laluni producing crops such as cherries, oranges, watermelon and pumpkin. "Every day produce does go from here," Edward said referring to the entire farming community. "Even though it is difficult, we are facing it… what farmers can do for themselves to make a nice life, it's difficult but people still trying."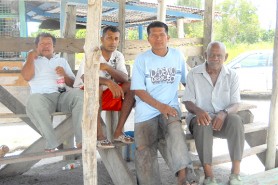 His outlook is reflected by several other farmers in the agriculture-dependent community of about 1200 persons roughly eight miles from the Linden/Soesdyke highway. But, Edward said, farmers here don't really get the help they need. "We need more help if we are to more than survive."
In June 2008, during a visit to promote his 'Grow More Food' campaign, Agriculture Minister, Robert Persaud, told farmers that his ministry recognized the importance of incorporating the area in the development of the agriculture sector and pointed out the need for a well-rounded and comprehensive approach towards agriculture The 'Grow More' campaign is not about seeds alone as it is intended to transform agriculture, to empower farmers and to allow them and the agriculture sector to make use of the marketing opportunities which exist and to be prepared for the changes in the international arena, he had said.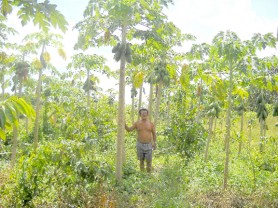 Just promises, says Raymond Dundas. He said that many promises were made to Laluni. "There were failures all over. The things that they promise were never fulfilled," he told Stabroek News last week during a visit to the community. "They talking about marketing but we ain't see none," he said. He recalled that Persaud had even pledged that the eight-mile access road would be rehabilitated, but this is yet to be done. "Just promise. That is all they do," he said again.
Farmers interviewed by this newspaper related that they only thing they had ever received through the Grow More Food campaign were seeds, but that very few germinated. "None nah burst out," said Dundas. "We ain't get no kind of help from them up to now," says Pradeep Balkissoon. "Dem nah really do nothing," Rudolph Williams said. According to them, the seeds were "expired."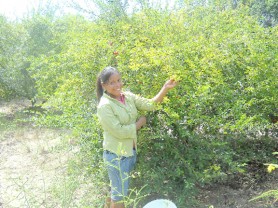 Citrus and other fruit trees line the trails in Laluni leading to more citrus and cash-crops fields and also thick bushes where farms used to be. Russ Patterson, the Chairman of the Laluni Farmers Group said that some persons have become discouraged and moved away from farming for different reasons, including low prices for their produce. "Some of them stay, some gone bush, some do other things but mainly [this] is a farming area and that's what we got to do," he said.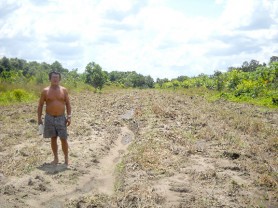 Dundas said that they are facing hard times in the community.  After the Demerara Tobacco Company ended operations in 1992/93, farmers turned to citrus and cash crops. Dundas, who has several other relatives in the community all involved in farming, now plants two and a half acres in plantain, sorrel, bolounger and bora and said he hd farmed in the community since the 1970s. "We are down in the community in relation to farming," he said adding that the village is "forgotten."
After Demtoco pulled out, Edward said, they went to different persons for assistance including the Institute for Private Enterprise Development (IPED). He pointed out that the lending institution would give a loan but from the first month, farmers have to begin repaying. "Which crop gon bear within a month," he asked. He said that Minister Persaud and his team had visited but "because we are poor farmers and don't have the capital to invest, they only thing they does do for us is advise how to spray and what to spray. You really don't get the help you need." He said that while farmers are surviving, younger persons are finding it difficult.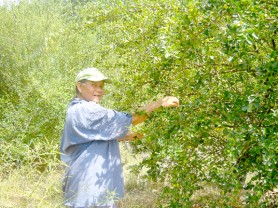 One of the main hindrances to agriculture and general development in Laluni is the terrible state of the access road, which is deeply rutted with sections crater-like, farmers said. Edward, who moved to the area in 1964, recalled that the road was last repaired in 1994 and it was in a good state then. Since then it was graded twice, he said, but now it is back to square one. A better road would make things easier, farmers said. Randolph Dundas said that the condition of the road worsens when it rains. Due to the state, he said, transportation costs are high. Randolph plants two acres of ochro, bolounger, bora, cucumber and citrus, which he sells at the Stabroek Market. "If we get some assistance, we would be so happy," Morris Ferreira said. There are some persons willing to come to the community and buy but the state of the road is a major obstacle, he stressed.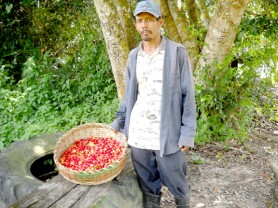 Many farmers sell their produce themselves, making the journey to the city markets, particularly the Stabroek Market, where they are afforded the opportunity to sell on the tarmac for three hours. However, the limited time constrains them from getting good prices since the farmers have to have their produce sold within that time and the buyers know this, Dundas said. It is only the middle-men who are making the money, farmers said.
Like the other farmers, Ferreira said that the Grow More Food Campaign has not had any major impact on him. He and his four sons, cultivate 20 acres of oranges, tangerines, cherries, pepper, passion fruit and sometimes bora. Ferreira recalled he received some seeds through the campaign but most did not germinate. He sells at the Stabroek Market and prices fluctuate – low when produce is abundant and rising when it is scarce. "Sometimes you hardly get any profit. You just glad to get it off," he said. He recalled that he has supplied peppers to an exporter in the past but there were problems. He said that the exporter came to order pepper and this was picked and readied but then there were flight problems. "They call and order and sometimes, when you get it, they say the flight is cancelled and you have to find another market. Sometimes all the pepper that they order coming back on the market," he said.
Ferreira farms on an island in the Laluni Creek and said that it was never cleared since the 1970s when it was partially cleaned. Now, he said, it is clogged and at times overflows and floods the land. Other farmers concur that this as a major problem pointing out that during the rainy season, it floods and during the dry season there is hardly any water. There isn't a proper irrigation system and if farming is to improve, there is a need for one, they said.
Anthony Dundas, who plants citrus, papaws and previously, watermelon, on 6.7 acres of land, said the lack of irrigation is a major concern. While he has a small pump, during the dry weather farmers face lots of hardships, and "when it dry, it dry." These major issues that farmers have are not addressed by the authorities, he said. Currently, because there is the demand, he is preparing land to plant watermelons for export, he said. Anthony noted that he has done this before but faced problems with foxes and 'water-dog.'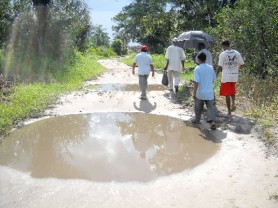 Russ, who heads the Laluni Farmers Group, comprising about 70 persons, mainly cash crop farmers, acknowledged that the group is not very active now. He said they had formed the group about three years ago to get some assistance from a Canadian fund. He said that if farmers get assistance, they would be able to grow more. He pointed out that most farmers have joined the Guyana Agricultural Produc-ers Association (GAPA) to get some help. Russ said that earlier this year, the organisation had promised help in the form of fertilizers and other items but they are yet to see these items. "Before we get this assistance, we had to join it (GAPA)," he recalled. He said that they had to pay a membership fee to join the group but the leaders of the organization do not visit to hear their concerns. "Since we join and everybody get membership card, they never come back," another farmer echoed. Russ recalled too that GAPA officials had told them that the Laluni road was one of 50 roads that the government would repair. "But I don't know when," he said.
Most farmers, Russ said, sell their produce locally, but there are a few who sell to exporters. He said that since the Grow More Food campaign, prices for the produce have dropped but the cost of inputs remains high and farmers are facing the "hardest time." Grow More is good but the cost of inputs is an issue, he said. Anthony, meantime, also pointed out that the quality of the crop is sometimes poor because they could not afford the inputs to produce quality crops. The weather and pests and disease contribute to this, he said.  Other farmers point out that the price of fertilizer and other drugs are high but the price for their produce is low.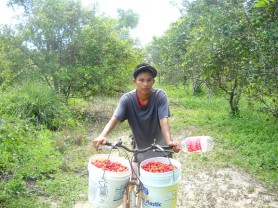 "We are facing a lot of hardship. You don't get the right price at the markets," said Anthony. Persaud, who cultivates three acres of land with bora, ochro, cucumber, watermelon and pumpkin, and sells his produce in the city. During the week, he usually sells to wholesalers at half the price he can get during the weekends, he said. This is what farmers go through just to get the produce off their hands, he said. "Sometimes wholesalers come in and buy but when they come here, the price is right down to the ground. It's the same square one. It nah mek sense," Randolph said.
Meantime, the farmers recalled that last year, through a Canadian Hunger Fund programme, they received $60 000 worth of fertilizer, other drugs and seeds in three instalments.  "At least that help nuff, it push a lot of farmers," Persaud said. "Dat really push you up," agreed Randolph. According to the farmers, they would like to see a similar programme because that had really helped them. Some also said that a community tractor was needed to help with costly land preparation while a pump for the dry season would assist them. Others advocated drip irrigation. However, they expressed the view that they seem to have been forgotten. "Laluni get left behind," said one farmer. Others pointed out that Minister of Amerindian Affairs, Pauline Sukhai grew up in the community but has done "nothing" for it.
"Man you look at the condition of this place hey and tell me if this place making progress or not. This place is down, down," said one man. "It's just because you like farming, you doing farming," Williams added. "It's a traditional thing so you do it," said Raymond.
Around the Web