Channel 6 owner and Justice for All Party leader Chandra Narine Sharma suffered a heart attack yesterday afternoon and is a patient of a private city hospital, his wife Savitree Singh confirmed last evening.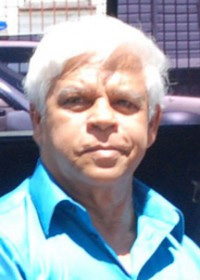 Speaking from their Robb Street home, she said that Sharma suffered a heart attack around 2-3 pm while at the Dr Balwant Singh hospital where she had taken him for a check-up since he was feeling unwell.
She explained that during the last two weeks, Sharma had been hospitalized three times, the last time being last week.
He was released last Thursday after spending several days in hospital but the following night, she added he began crying out for pain again.
Singh told this newspaper that following the heart attack, her husband's heartbeat was at zero but the doctors managed to resuscitate him.
Following the incident, she said that she contacted the Caribbean Heart Institute (CHI) and the necessary arrangements were being made to transfer him there.
However, an official of the CHI subsequently contacted her saying that she was unable to make contact with the doctor. As such she had no choice but to admit him to the Dr Balwant Singh Hospital.
She added that she preferred him in the CHI since it was there that Sharma had a stent inserted into his artery earlier this year and as such they were in possession of his medical records. She also felt that CHI was the best place for her husband to be since they had the best doctors to deal with his condition. She said that there have been numerous objections to requests for overseas treatment.
Sharma was charged with carnal knowledge of a child who was seven years old, earlier this year. The charge stemmed from allegations made by the now 13-year-old complainant, who accused Sharma of molesting her. He is on $2M bail on that offence. Sharma has also been charged with witness tampering.
Stabroek News was told that one of the matters was adjourned to some time next week.
Around the Web