If ever there was a woman with a will to live and one that even when her strength is failing is willing to battle life and all that it throws at her it would be 65-year-old Irene Wright who refuses to let breast cancer, Parkinson's disease and a swollen knee that has rendered her immobile keep her down.
"I am confident that I will work again by Christmas and I will get my job back," Wright said during a recent interview with Stabroek News at her East Street home.
As she sees it she must get up and walk in order to support herself, and this is the driving force behind her will to throw aside all of life's trials and look towards a brighter tomorrow.
A brighter tomorrow for her would be to have the pain in her right knee – caused by a fall almost five months ago, and arthritis – subside; to be able to walk again and continue her job as a cook for a Georgetown family. After all, she says, she has bills to pay. There is the fridge she took on hire purchase from Courts Guyana, and while she does not pay a rent for the room she occupies she wants to continue contributing to the electricity and water bills.
Wright wanted to tell her story as a cancer survivor who lost one of her breasts three years ago, since September is cancer awareness month worldwide. While she has received support she feels that there is need for more support to be given to persons who are battling the disease.
This same sentiment was expressed by 73-year-old Olga Wilson, who has also lost a breast to the disease, because as she sees it there are a lot of persons afflicted with cancer who are in need of help. Wilson says she is happy that she "prepared for my old age," but as a survivor she is aware of many persons who are in dire need of help – not financial assistance but more importantly moral and emotional support.
"I does think about others who need the support, especially the shut-ins," Wilson, who is a firm believer in God, told Stabroek News recently.
Both women are part of the Periwinkle Club, formed in 2006, which seeks to offer a forum for advocacy and sensitizing the public to the risks of cancer. According to them the club has been of immense benefit to them. While Wright is happy for the once-in-a-while hamper she receives from the club both she and Wilson are more appreciative of the support meetings convened by the club. Wright has been unable to attend the meetings in recent times but the frequent calls she receives from members of the club are comforting. More clubs and support groups are needed, according to the women. Things are not perfect for the two women but they feel sharing their stories would be a way of helping someone who needs a reason to cling to hope.
Six years ago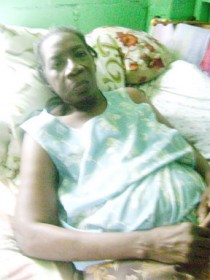 It was six years ago Wright said, that she realized something was wrong when she felt a lump in her right breast. Because of where she lived she visited the West Demerara Regional Hospital and from this point life became more difficult for her. After a few visits, Wright said, one day the doctor told her that she had breast cancer and they needed to operate on her urgently.
"Just like that the doctor tell me; and it just shock me because they wanted to do the operation right away and tell me to sign some papers and call me sister to sign papers too," the woman recounted. Wright is adamant that it was the shocking news she received in such an abrupt manner and being told that her breast would have been removed immediately that triggered her Parkinson's disease.
"Is right there I start shaking and I never stop shaking," the woman said, adding that later she was diagnosed with the disease and now takes treatment for it at the George-town Public Hospital (GPH). Three attempts to have the operation were aborted because on all three occasions her pressure was too high and after she was discharged, Wright decided not to return to the hospital.
She instead tried a herbal doctor who in her own words "make me feel good with the tablets he give me," but he also warned her that the cancer was far advanced and she would have to be operated on in the end. Wright continued seeing the herbal doctor until one morning during a bath she saw that her breast was bleeding.
"I call me neighbour upstairs and she said 'this is hospital,' but I still went to work and when I come home I see a nurse and she tell me right away to go to the hospital," Wright said. She did as advised and shortly after she had the mastectomy. She has had no further issues since then as it relates to the cancer.
A long time ago, Wright said, she had dreamt of being a nurse, but that dream was dashed at the age of 16 when she was forced to take up a job as a domestic worker. She has been doing this type of work since then.
"It was never a problem for me because I like cleaning and cooking," she told this newspaper, adding that in recent times it was just cooking she did.
She never married and has no children. She revealed that at one time she had shared a common-law relationship with a man but ended it "because he start to do stupidness and I did not want the street."  In recent times she had a "friend" but he died earlier this year and it was shortly after that, that she became immobile, and as she put it, "life become more difficult for me."
At the time she was working as a cook and being paid $6,000 a week, but was forced to quit after she became wheelchair bound. A trip to Sophia to assist a friend to make her son's birthday cake last Easter is one she regrets, because it was while on her way to get transportation following the cake-baking exercise that her foot became entangled in a piece of wire and she fell.
Her foot became swollen and started to pain, which continues up to today. A visit to the GPH saw the foot being placed in a cast but it has since been removed and she is still not able to work or help herself. Her benevolent former employers still give her $3,000 a week and a food vendor in the area provides lunch for her free of cost on a daily basis. She expects to start receiving the old-age pension soon. "I will get up and walk again…" she says with a sad smile.
Denial
Wilson admits that when she was first diagnosed with breast cancer three-and-a-half years ago she was in denial.
This prompted her to visit numerous doctors in the hope that one would give her a different diagnosis for the lump she felt in her breast at the time.
She recalled that after she did a biopsy, which cost $75,000, the doctor who gave her the results informed her that the breast needed to be removed and that would have cost $200,000.
"But I was in self denial and I told the doctor plainly that I am not going to pay him $200,000 to take off my breast," the frisky mother of five told this newspaper.
But it was the same diagnosis she was given by each doctor she visited, and eventually she had the operation done at GPH in 2007; except for a little pain now and then, Wilson said she has been going strong.
"Since the operation I have a greater faith in God. I am doing what I am told by the doctors and right now I am not a sickly person and I am not in no real pain," the woman said.
She recalled that for the two weeks she was in hospital following the operation the doctor kept telling her "you are a strong woman," but she told the doctor it was her belief in God.
"You know how many people I know, sisters from my church who younger than me who had the operation and all of them now gone home," Wilson said.
She said she is not ashamed to tell people that she is a cancer survivor and she wants those who are in suffering from the disease to believe in their God, adding that people can be very cruel and cancer victims in some instances are not told anything to uplift their spirits.
"Life hard but it sweet, because no one wants to die; you have to take it one day at a time."
For years Wilson was a food vendor in Bourda Market and what she earned from her trade helped her to build her own home. Her late husband left her another property, which she rents, and according to her this provides for her adequately.
"Life is good, my dear, but we have to do the right things," Wilson said.