-harrowing experience for crew
A boat transporting Banks DIH products to the Essequibo Coast sprung leaks and had to be grounded at the Stewartville, West Coast Demerara shore late Saturday night.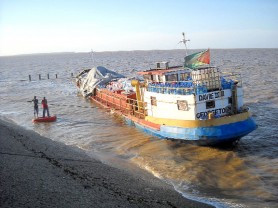 There were no injuries but it was a harrowing experience on a dark night with high waves, one crewman, Dexroy Murray said. Up to late yesterday afternoon, the 'Davie 11' was grounded at the Stewartville foreshore as numerous residents gathered at the seawall looking on at the beverage-laden vessel. Earlier, residents had removed some products that had fallen off but later yesterday the police ordered them away from the immediate vicinity of the beached vessel.
"We get two hole when we went coming out (from) the Banks koker", Murray said. The leaks developed at the stern and another area. The captain and three crewmembers were onboard. They managed to patch the hole at the stern with a piece of wood wrapped with cloth but were unable to get to the other leak, Murray said. The 'Davie 11' had left the Banks wharf at around 9pm on Saturday. As the vessel travelled along the coast, they worked to fix the leaks. The pump was utilized when large amounts of water gushed into the vessel, which was starting to list to one side. The first time they pumped out all the water.
However, on the second occasion as water poured into the vessel, the pump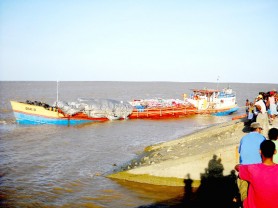 could not start because mud had gotten inside. By this time, they were close to the Stewartville foreshore and with the help of a resident, Murtland Jacobs, positioned the listing boat and secured it to the shore.
Jacobs was at the seawall at around 11 pm Saturday when he saw the distressed vessel, he said. Using a light, he assisted in positioning the boat and then with another resident, helped to secure it when the ropes were thrown out. "This boat been cant pon one side", he recalled. He recalled that the waters were rough and he assisted in getting the crew off the vessel.
They were lucky because by this time the engine room was filled with water and they had to shut down the engine. Murray recalled that by the time they safely got to shore, after 11 pm, it was dark and the 'Davie 11' was being battered by high waves. Water in the engine room was about six and a half feet high, he said. The crew as well as Jacobs spent the night at the seawall and remained there late yesterday.
When the tide receded the vessel was grounded and leaned to one side. As a result some of the products fell off and residents helped themselves to these.  Beverages and other Banks products were being transported.
Yesterday Banks DIH sent a security guard. It is expected that the cargo will be offloaded today and efforts made to fix the vessel.
Around the Web