A 22-year-old pregnant Guya-nese woman was found burnt to death in her car in Queens, New York on Saturday.
Dead is Omadevi Megbaran-Saran called 'Annie', formerly of Narine Street, Annandale, East Coast Demerara. The former St Joseph High School student lived in California but had been visiting her mother, Danmattie Persaud in Queens, her father, Rajendra 'Naresh' Megbaran told Stabroek News yesterday.
WPIX-TV reported that the death is being investigated as a possible homicide after Saran's body was found in the backseat. It said that the New York Police and Fire Depart-ments responded to a call just after 4am on Saturday of a vehicle fire at the corner of Jamaica Avenue and 130th Street, and after putting out the blaze they discovered an unidentified person in the rear seat of the 2000 BMW.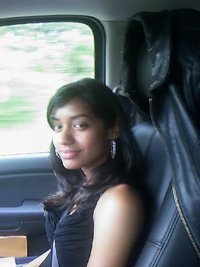 Emergency medical technicians pronounced the person dead at the scene. The victim was later identified as Saran. She suffered serious bodily trauma, the report said. The investigation into the cause of death is ongoing.
At Annandale yesterday the girl's father said that his daughter's husband is in the US army and she lived in California but had gone to visit her mother. He said that he had spoken to Persaud and she related what had happened. According to Persaud, earlier this week, Saran told her that she was going to do some business. He said that when Persaud asked her what sort of business, Saran asked her why she was being nosy.
However, Saran had confided in her brother that she was going to buy a house, Megbaran said. He said that on Friday morning, she was supposed to return to her mother but did not show up. "She mother get worried and call me and seh Annie gone and she nah come home", he recalled. "Me tell she nah worry", he said saying that his daughter was grown and would have known what she was about.
However, on Saturday another relative came to his home and informed him of what had happened. Persaud also called and informed him of their daughter's death. She told him that Saran was found burnt to death in her car, he said. Megbaran said that his daughter had stopped working due to her pregnancy. He said that she was about four and a half months pregnant with her first child. She had moved to the US in 2006, he said.
Megbaran said that he had not been told of a possible motive. Saran is survived by her parents, brother, husband and other relatives.
Around the Web