-see great need for cannery, depot
'We nah get market…
We nah getting price'
(This is the ninth part in a series on the Grow More Food campaign)
In his laden citrus grove in the Pomeroon, Rudolph Gobin fixes a shirt on a stick and clangs a crude bell. To scare away parrots, he explained, pointing to the numerous fallen half-eaten oranges and carambolas, their green vibrant against a brown earth.
There are other 'scarecrows' placed within the vast field at Lord Robert Grant but still the parrots come. In farms along the Pomeroon River, some farmers place nets around their laden fruit trees and employ watchmen to chase away parrots but the noisy, colourful birds still snip and destroy the fruits. It is just one of the challenges farmers in the area face, Gobin, 68, said.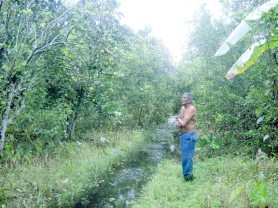 But while showing tangerine trees so heavy with fruit that the branches have to be propped up with sticks, he echoes a major concern of farmers in the fertile land along the River in Region Two. "We nah get market", he said. "We nah getting price." He boasts that he plants 34 different crops ranging from citrus to coffee and cherries. He sells wholesale to hucksters within the Region and some who come from Georgetown. The prices he gets, particularly when the crops are 'in season' are low, he lamented saying that it was the middle-men who make all the money.
In Grant Macedonia, Martindale, Parsram Persaud called 'Indal' says the prices they get for their produce do not compensate, moreso given the high input costs. "What you ah do can barely buy food fuh you eat", says David Cozier in Playfair, Lower Pomeroon. "Sometime you ain't get the market, sometime the rainfall come and take away everything. Is luck and chance" says Lloyd Garraway in Burn Bush, Lower Pomeroon. "Sometimes nuff left back. Sometimes people roundabout you got to give them cos nuff gon spoil".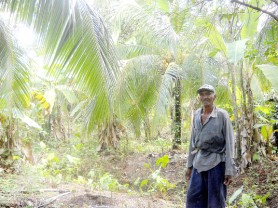 Other farmers across the Pomeroon echoed similar concerns during a visit by Stabroek News last week. But with many of the farmers advancing in age though still spry and able to work the fields, they lament that young people are not interested in agriculture due to the many challenges and steadily, year upon year, more and more of the fertile lands along the Pomeroon lie fallow.
Gobin, who holds 137 acres of land in parcels along the Pomeroon and used to cultivate them all up to five years ago, now only cultivates 15 acres. "Labour nah deh at all", he said. "Farming getting rough now because plenty of the young men going into the interior and because of that we can't get workmen".
While many farmers say that they try to "get up and get", the problems they face do not seem to abate. Limited markets, low prices, pests, diseases, high input costs, labour and persistent flooding are battles they face every time. Little, if any help is received from the authorities though some farmers say that they have received some seeds and drugs through the Agriculture Ministry's Grow More Food campaign. However, several others say that they have only heard about it while a few did not know about the campaign. The majority of the farmers said they grow just as they did in the past, with little change due to the campaign.
Bitter cassava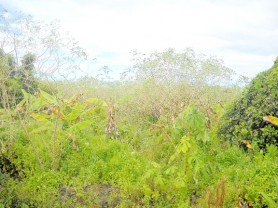 Despite the lack of a labour force, at 72, Persaud still manages to cultivate his land, 99 acres, half with coconuts and the remainder with citrus, cassava and other crops. Earlier this year, he said, New Guyana Marketing Corporation (GMC) officials told him that there was a market for bitter cassava: a well-known stockfeed company would buy it. "That's why me invest so much in bitter (cassava)", he said, pointing to the acres of now-overgrown plants, left alone because there wasn't any market for it. "The last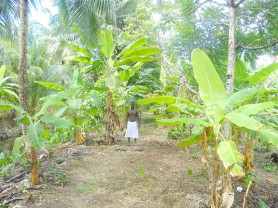 set of money me had, me tek it and plant cassava and me nah get it back".
Persaud said that he called the GMC recently to tell them how much he had. "They say whatever you get, you must call and they gon see if they get market for it", he said. "They does promise you but we never get market from them". He pointed out that some of the cassava plants have fallen because they were "overripe". In addition, his plantains and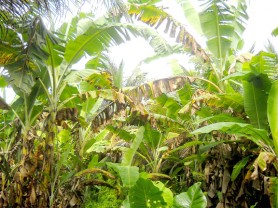 bananas are ravaged by disease, which he said was Black Sigatoka. "The plantain done and the cassava deh pon done", said Persaud. For the cassava, he said, if he does not get a market between now and the next two months, "it finish".
Unlike Persaud, Drudge Creek farmer, Eugene Anthony said he has never heard of the Grow More Food campaign. As he buys young coconut plants in Charity, he said that what he knows is that prices are low but farmers have no choice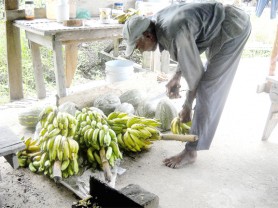 but to sell at the price offered because they have to live. "You got to sell it just to get lil sugar money or something".  He said that he has received no help and "you only hearing that they gon help".
David Kansinally took over the farm at Strong Hope Canal, Lower Pomeroon from his parents, cultivating cash crops and coconuts. Out of 20 acres, he now only plants 15, he related. He said that it is difficult with produce not selling many times. "Before you used to get large amounts and it sold out but now you can't plant that amount", he said. He opined that it is the middlemen who make the money. "Sometimes you grow more food and eventually you ain't get no market for the food".
"When you got to work so long for the crop and you get that kind of price, it can't really compensate you", Chandrawattie Smith says. Only cultivating three of her five acres, she said that improvement has to come from "the head". She said that the government should furnish a market where farmers can sell their produce at a standard price. Like many banana and plantain farmers, a disease, said to be Black Sigatoka is affecting her plants. The leaves of the plant shrivel; turn brown and the plant dies.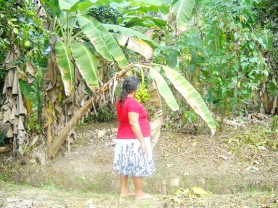 "You nah get encouragement cause you nah get the price for your produce", says Rodney Correia. He said that it was not like long ago when extension officers came to visit farms, ask about problems and try to help. Those stationed in the Region come "when they nah get nothing to do", he said. His parents were farmers and he started when he left school. He pointed out that now; young people are not getting into farming.
Input costs for farming have risen, said David Edwards in Jacklow. He too says that the limited market and low prices are major issues. "They tell you plant, you gon get market but from where", he asked. "The lil produce Pomeroon produce fill up the market". Other farmers in the area echo similar sentiments. "We don't get export market here", says Seenauth of Grant Buxton."Most people done with farming".
Workers are few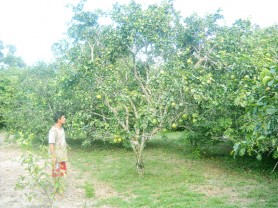 For the farmers now advancing in age, the fact that young people are seeking jobs in the gold mines and elsewhere rather than farming, is a source of great concern. "Harvesting is great but workers are few", Gobin quoted. "Only the old farmers really get farm now". With many of the youngsters reluctant to get into the farms, persons available to work, ask for high wages.
In recent times, the farmers have to battle more and more with flooding. They say that the water level in the Pomeroon River has risen and spring tides are fiercer. Gobin, a well-known farmer, who proudly says that his produce is organic, recalled that he has hosted a number of high-ranking government officials, who praised his farm. But, he said, nothing much is being done in relation to river defence and he predicts that within five years, given the rate at which the water in the river is rising, the area will be changed drastically. "With them tide coming now, you have to move out…move to high land. We don't get no defence from the high water", he said.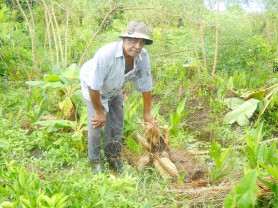 For many of the farmers, despite the river embankments raised time and again, the water keeps on coming. Flooding is compounded too, some said, due to their neighbours stopping farming and even moving out, leaving their land unprotected and while those who remain protect their land, the water would enter through the abandoned lands. Many of the farmers who spoke with this newspaper point out that neighbours on both sides of their land have moved out.
And the farmers also have to contend with diseases. Currently,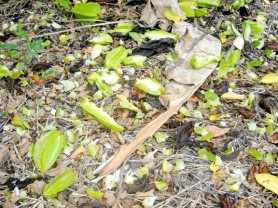 banana and plantain crops are being ravaged by the disease, which some farmers identify as Black Sigatoka; also other pests and the parrots.
For most farmers, they see a solution in either a depot to buy their produce at a stable price or a canning factory. "We want a processing factory that we can prepare the food for human consumption", Persaud said, citing Trinidad as an example. "That gon send the farmer back to the soil and it gon encourage people to go back to farming". Though there is a small agro-processing facility in the area, it is too small to take on the volumes of produce. Persaud recalled an incident where five bags of pepper taken there by his son, was refused. "Here you deh pun you own", he lamented.
We can't balance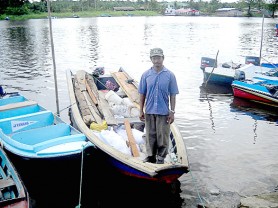 He said that once a facility is in place, farmers can grow "whatever they request". He said that now when crops like oranges are picked, because of the large volumes, they have to sell it at whatever price is offered. "You deh pon the Lord mercy", he said. "Everything gone high up and the produce (price) still remaining at the low stage. We can't balance. That's the difficult part of it".
"With this marketing thing, it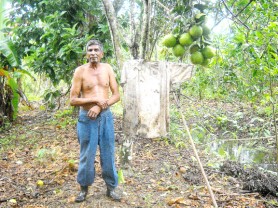 want the marketing centre to buy", says Cozier. He said that farmers are not encouraged to produce. "Down here, no matter you try, what you gon do with the goods…them a limit you", he said. "So when you tell we plant, plant, plant, buddy where we gon carry this thing?" He pointed out that while farmers are being urged to go back to the land, there are no markets. "And you ah tell me farm. Wha
For many farmers, coconut is one of the main products but they note that the prices for these are depressed too. Some say that there is a need for more competition in the area for copra because with only one buyer there, the prices are low.
Most of the farmers say they do it because they love it and have been doing it all their lives. "Farming is nice, I like farming", Gobin says. "Food is important, you gat to plant farm".  Some like Garraway have sought other means of earning a livelihood like mining but ensure that there is always something growing at home. "Some farmers like they nah get the mind to keep doing it but the system is that you just can't give up", he said.
Around the Web