A registered nurse and mother of two passed away yesterday at the Georgetown Public Hospital – two days after giving birth – adding to the troubling number of such cases recently.
According to relatives of 40-year-old Charlene Amsterdam, a mother of a 15-year old girl and a new-born daughter, the woman delivered a bouncing baby on Fri-day around lunch time at the Georgetown Public Hospital (GPH) but she continued to bleed heavily and subsequently died while receiving treatment yesterday morning.
Minister of Health Dr Leslie Ramsammy expressed sadness at the passing of the health worker when contacted by Stabroek News yesterday. He said that the case does not appear to be one where insufficient attention was provided to the woman. Without making any references, he added that when someone is trained to do something he/she must carry out such duties properly.
Amsterdam's sister told Stabroek News from her Linden home that the woman was admitted to the GPH, where she has been working as a registered nurse for a number of years, on Wednes-day. She said that her sister delivered the baby via caesarean section (C-Section) and it was noted that she was bleeding heavily soon after delivery.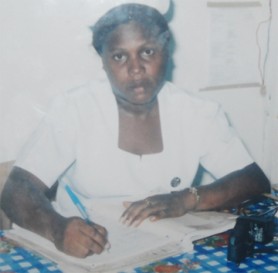 Another relative noted that Amsterdam was being treated for fibroids and the ailment was considered to be in an advanced stage. She said Amsterdam was "hemorrhaging badly" at post-delivery, noting that the woman had taken two units of blood after giving birth.
Relatives of the woman told this newspaper that medical staff were hesitant about the extent of the ailment (fibroids) and it was noted that while the baby was healthy, Amsterdam continued to bleed excessively after delivery.
A relative told Stabroek News yesterday that sometime after 8:30 on Saturday evening, hospital staff contacted the family, stating that Amsterdam was being taken to the main operating theatre as her condition was deteriorating.
He said the family immediately rushed down to the medical institution and waited for close to three hours without being told of the woman's condition. He said that Amsterdam's sister, who is a mid-wife attached to a public medical facility in Linden, along with friends were at the GPHC on Saturday evening.
The man noted that during the course of the night Amsterdam was taken back to the Intensive Care Unit (ICU) at the GPH where she was a patient since giving birth on Friday. He said staff of the hospital called a relative around 3 am yesterday and related the grim news of the woman's passing.
The man noted that the woman worked up to Tuesday last, adding that she was, "comfortable and trusted the hospital to take care of her delivery". He said that the woman's death came as a total shock to her family and friends. "This death coming only days after the back-to-back deaths they had in Berbice speaks something bad about the system", the man stated and he noted that the family is not going to let the matter slide.
Anger prevailed at the woman's residence at Lot 95, Amelia's Ward, Linden yesterday, as friends and relatives of the woman gathered to offer words of comfort to her immediate relatives. Her husband and mother were too distraught to speak yesterday.
Amsterdam, who was considered by her friends as a hard-working professional, had been a registered nurse for a number of years, and to work at the GPHC was one of her dreams, a grieving cousin told this newspaper yesterday.
She said the woman used to travel to and from the city from Amelia's Ward in the mining town of Linden but as travelling became difficult, she relocated to Guyhoc Park in the city where she resided until her demise.
Sub-committee
Cabinet last week ordered that officials connected to the Skeldon Hospital where Esther Dwarka-Bowlin, the acting Headmistress of the Princetown Nursery School in Corriverton, died last weekend after giving birth to her third child, appear before a special Cabinet sub-committee in an effort to seek answers about the death.
Cabinet Secretary Dr Roger Luncheon at his post-cabinet press briefing said that Cabinet "noted with dismay" the recent death of the woman reported in Stabroek News on Monday last. He said Cabinet has urged that "the investigation into this maternal death be concluded soon within the set time frame."
Last Wednesday another woman, 21-year-old Yogeeta Bishram of No. 60 Village, Corentyne died early that morning at the New Amster-dam Hospital (NAH) after delivering her second child; a healthy baby girl at the Skeldon Hospital.
She was admitted to the Skeldon Hospital around 9 pm on Tuesday and her husband, Chandradat Gobin told Stabroek News that when he left everything was fine with her. The family expressed shock at the woman's demise.
There have been other maternity-related deaths in the Ancient County over the past several months. Rebekha Chinamootoo, 26, of No. 36 Village, Corentyne died in September after giving birth to a healthy baby boy by c-section at the NAH.
A teenager, Nadira Sammy (16 years) of No. 69 Village who was diagnosed with high blood pressure lost her life at the NA Hospital before giving birth.
When her mother, Serojanie Sammy, 38, turned up for the 6 am visit the next day the nurse-in-charge told her that Nadira began experiencing pain around 8:30 pm and she developed a "blowing" and could not breathe properly.
She also related that they were "looking after she fuh move she to Georgetown Hospital" but that she died during the process.
And the GPH stated last month that an investigation had been launched in the circumstances surrounding the death of Aseelah Haqq, 33, of Middle Walk, Buxton, East Coast Demerara who died early in September while she was attached to a life support machine hours after delivering her child.
Ayesha Haqq said that despite instructions from a doctor that a Caesarean Section should be done on her sister to deliver her baby the woman was forced to endure normal labour.
Her sister was referred to the GPH by the Beterver-wagting Health Centre. Aseelah had been suffering from complications and her pregnancy had gone over 42 weeks. Her sister, Ayesha further informed this newspaper, was also a diabetic.
It is unclear if the investigation into the woman's  death has been completed.