The severe weather system headed in this direction has now been declared as Tropical Storm Tomas and it could reach hurricane strength on Sunday.
Reuters this afternoon reported that Tropical Storm Tomas formed in  the Atlantic on a track threatening the Caribbean's central  Windward Islands, while further north Tropical Storm Shary  headed for the British island territory of Bermuda.
Tomas, the 19th storm of the very active 2010 Atlantic  hurricane season, was forecast to strengthen and could become a  hurricane by Sunday, the U.S. National Hurricane Center said.
It had top sustained winds of 40 miles per hour (65 kph),  and at 5 p.m. EDT/2100 GMT, was located about 200 miles (320  km) southeast of Barbados.
It was expected to bring heavy rain and strong winds to the  Windward Islands and parts of northern Venezuela in the next  few days, the hurricane centre said. Forecast models saw it  moving through the central Windward Islands on Saturday into  the eastern Caribbean Sea.
Tropical storm warnings were in effect for Barbados, St.  Vincent and the Grenadines, Martinique, St. Lucia, Trinidad and  Tobago and Grenada.
This afternoon, the Ministry of Agriculture said that there was now a 90% chance of the weather system heading in Guyana's direction becoming a tropical cyclone. It said the system is expected to bring heavy rain and gusty winds moving up to Tropical Storm force on the coastland.
The press release follows.
"Presently spiral bands are being expelled from the Tropical Wave and increasing convection over the Coastal Plain and drifting Inland. Mostly cloudy skies will be experienced along the Coast and near inland to Inland locations with showers and outbursts of thunder.
"The National Hurricane Center has indicated the Tropical Wave's new position as 275 miles south-east of the Windward Islands; it continues to show signs of organization. It is under investigation to determine if a Tropical Depression or Storm has formed.
There is now a 90% chance of this disturbance becoming a Tropical Cyclone during the next 48 hours as it moves west-north westward  at 15-20 miles per hour.
Regardless of development this system is expected to bring locally heavy rains and strong gusty winds to Tropical-Storm force that is most likely to affect our Coastland.
"It is expected that this could increase wave energy; therefore sea conditions may become rough with swells that can affect ocean going vessels. In addition, atmospheric turbulence may affect air navigation.
"Pilots, users of ocean going vessels (including fishermen) and residents in low lying areas are asked to take necessary precautions.
"The Hydrometeorological Service's National Weather Watch Centre will continue to monitor this system and will provide updates as the situation warrants."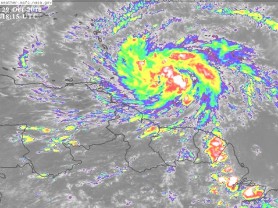 Around the Web