The Caribbean Media Corporation is reporting that Hurricane Tomas has killed 12 persons in St Lucia and the death toll could be higher.
According to a report on the Jamaica Observer website, CMC said  that the damage caused by the storm could surpass US$100 million.This car fell into a crater created by storm waters associated with Tropical storm Tomas in St Lucia. (Photo: CMC)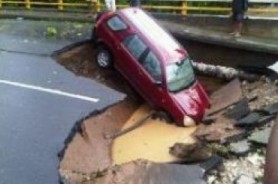 The southern town of Vieux-Fort was among the worst hit by the Category One storm, while five bodies including those of the owners of a popular craft shop in Soufriere, recovered from the wreckage of their homes that were hit by landslides, CMC said.
"I would say to you right now we have 12 confirmed dead…unfortunately there are still people who are buried….," Tourism Minister Allan Chastanet said on local radio.
He said that the roads to the town, where the famous Piton Mountains and the world's only drive in volcano are located, are impassable and that the death toll could rise further.
Prime Minister Stephenson King had earlier said that an American visitor whose named was not disclosed, drowned on a north east coast beach while a 31 year-old woman died after her vehicle ran off the road and fell down a  precipice.
King said he had taken an aerial survey of the storm damage and it is clear that there had been extensive damage.
Around the Web