-says shooter was reloading
Leekha Rambrich, 49, President of the Guyana Rice Producers' Association was recovering well in the Intensive Care Unit of the New Amsterdam Hospital yesterday after undergoing surgery for pellet wounds on Saturday.
Rambrich, 49, of Bengal, Corentyne suffered injuries from a shot gun to his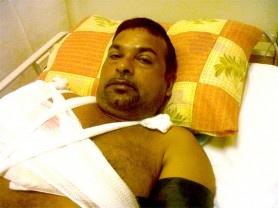 right arm, shoulder and chest around 11:30 am on Saturday during a misunderstanding with a 76-year-old man.
Some of the pellets have been removed but he was still in a lot of pain when this newspaper visited him yesterday.
The GRPA president left home around 10 am on his motorcycle to go to the backdam in the village to do "spot checks" on his rice field.
He told Stabroek News yesterday that he was renting 30 acres of land from a relative of the elderly man.
At the backdam, two miles away from the public road, the elderly man told Rambrich that he held the power-of-attorney and that he wanted him "off the land."
Rambrich responded that "if you want me off the land you have to take me to court." He said the man responded that "he won't take me to court; he would do what he has to do."
At that point Rambrich attempted to leave the area but saw when the man who was standing on the side of the dam pointed the gun at him. "I told him, 'I hope you don't shoot me with that' and he fire the shot."
He said even though he fell off the motorcycle, the man stood there and attempted to load the gun again.
Police from the No 51 Station responded promptly and arrested the man who is at present in custody. His unlicensed shotgun along with spent shells and three live cartridges were recovered.
His wife, Rebecca Rambrich had told Stabroek News on Saturday evening that he called her around 11.30 am but did not say anything and the phone was disconnected.
She called him back and he told her he was hurt and that she should send someone for him. She felt he had gotten into an accident with the motorcycle.
Two of his workers drove down to pick him up and on their way out they called and told her to prepare to go to the hospital. She said he was in a lot of pain but told her he was shot.
Around the Web