Residents of Wakapoa in Region One (Barima/Waini) no longer have to climb trees or steps, or find any other ingenious methods to make telephone calls now that Digicel has launched the country's first-ever solar powered cellular site there.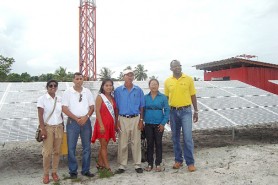 At the commissioning which took place last Saturday, Digicel's Chief Executive Officer Gregory Dean said it was just the first of several sites planned for Region One and others will be opened within the month. The next sites expected to be launched are at Kwebanna, Red Hill and Matthew's Ridge. These will complement coverage already received from the Santa Rosa cellular site. Further afield, another is expected to be operational at Ituni.
"We are very excited about this one," said Dean who described the launch as a "major achievement" since the company's entrance into the local market in 2006. The solar powered technology was successfully implemented in Suriname and drawing on lessons learnt there, was developed for the community.  He indicated that residents would be able to enjoy the same quality of service offered elsewhere in the country. "We hope that this helps you to do good business and enhance your social lives," he added.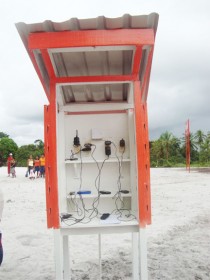 Minister of Amerindian Affairs Pauline Sukhai said the site represented "a step up in development for the community." She recognised the community's partnership with the telecommunications company and indicated that it would add to their infrastructural development. Additionally, she said the investment would help to enhance the government's drive to provide information technology to Amerindian communities.  In particular, it is expected that it will aid the lap top initiative of the government which is expected to begin roll-out in the first quarter of 2011.
She encouraged the community to maintain the facility and to partner with "everyone who has good intentions and wants to help the community." In applauding the move of the company in installing solar panels, she said it was their response in creating a low carbon alternative which would benefit the environment.
"This is Wakapoa's day," said Toshao Lloyd Perreira who added that the village council is working progressively at plans to restart the coffee industry which will improve their livelihood. He added that with the ability to make clear cellular calls, persons can now use the facilities to transact business or keep in touch with their relatives and friends.
Around the Web