The Guyana Defence Force (GDF) must open and transparent, according to Chief-of-Staff Commodore Gary Best, who urges that there be "greater accountability at all levels" for resources and assets with which it has been entrusted.
Best, addressing a church service held at the National Cultural Centre to mark the GDF's 45th anniversary, also told officers and other ranks that they must put a "human face" to their military life and to courageously create an organization that is inclusive to all. Taking better care of past members of the GDF was also urged.
Best noted that at the army is currently faced with evolving crimes and issues including trans-border crime, narco-trafficking, violent gun crimes, gang warfare, increased public and media scrutiny and increased civil oversight. "Our celebrations come at a time when internal peace and stability are so often being redefined by these threats," he said. The GDF, he added, must continue to forge stronger ties and bonds of friendships "with the civil society, the government, the people and our past members."
Meanwhile, speaking directly to his officers, Best emphasized that the ranks they command are a reflection of who lead them. "The infractions by an officer or another rank is not a matter solely for that officer or other rank but one that says to the public at large that this is our conduct at best," he said. He told the officers that they must therefore "assess our conduct, measure it using a moral compass and ensure it meets the standards of the citizens and state that we serve."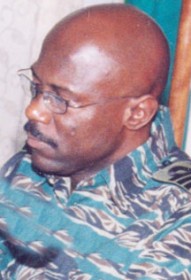 He also said the GDF can no longer merely focus on the military family, noting instead the need for focus on civilians, including veterans. "We must take better care of our officers and ranks. We must tell ourselves that it is our duty to put a human face to our military life and courageously create an organisation that is inclusive to our families," Best said.
Meanwhile, Best told those gathered that as serving members they must be strong, resolute and clinical in the execution of their tasks. He posited that they must be clear and unwavering in their pursuit to maintain secure borders and a safe living environment. "We that serve today must define what is our best practice and adhere resolutely to that practice," he said.
Further, Best urged that all commit to fashioning a force whose professional conduct transcends racial and social barriers. He pointed out that if their conduct is to determine the respect they earn then the values they defend and the customs they practice must be analyzed to determine whether they represent their best practice. "It is also of importance in our reflection to ascertain whether our conduct provides the requisite climate for the promotion of the high disciplinary standards required by the force."
Other activities planned to mark the anniversary celebrations are the commissioning of the force's day care facility and the   establishment of a veteran's department.
Around the Web