Public Service Minister Dr Jennifer Westford is performing the functions of President in the absence from the country of President Bharrat Jagdeo and Prime Minister Sam Hinds.
She took the oath today. President Jagdeo is in Barbados for the funeral of the Barbadian Prime Minister David Thompson while Hinds is in Canada.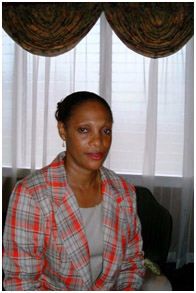 According to the Office of the President website Westford was born in Georgetown, Guyana. She attended Dolphin Primary and Charlestown Secondary Schools. She entered the Medical profession in 1977and graduated as a SRN in 1980. She worked with the Ministry of health until 1982 when she became a member of the Guyana Defence Force's Medical Corps. In 1984 she was awarded a Government of Guyana Scholarship to study in Cuba in the field of Medicine. She graduated as a medical doctor in 1990 and was attached to the Georgetown Hospital until 1995 when she was appointed Regional Health Officer of Regions 7 and 8.
She served in this capacity until 2001 when she was appointed as Minister of Public Service. Notwithstanding the demanding work load, Minister Westford graduated from the University of Guyana with a Post Graduate Diploma in International Relations in 2004. She continued her studies and in July 2006 graduated with a Master's Degree in International Studies from the University of Canterbury, UK. She is currently embarking on studies to obtain a Master's Degree in International Conflict Resolution.
Dr Westford also attained formal training in Human Resource Management, Conflict Resolution and Disaster Management, both locally and overseas. Dr. Westford is a strong advocate of discipline, ethnics and excellence in the work place. She encourages young people and adults alike to achieve all the academic knowledge possible, since her motto is "Reach for the Sky, but keep on stretching because there may be something else beyond that".
Her ultimate career goal is to command a senior position in the United Nations Organisation.
Around the Web