A new recreation area and minibus were commissioned after a concert hosted at the Palms Geriatric Home on Thursday in observance of the Month of the Elderly activities held annually.
According to a press release from the Government Information Agency (GINA) the programme included brief remarks by Administrator at the Palms Govind Singh, followed by Director of Social Services Wentworth Tanner, a prayer by nurse staff Janice Allen and a song by well-known resident Mr John, which was requested by Minister of Human Services and Social Security Priya Manickchand.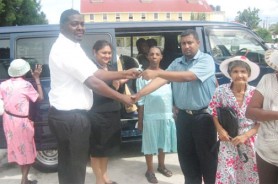 In her address, Manickchand said she was delighted at being able to fulfil a pledge made about a month ago, to add a new relaxation facility to the Palms. She said the administration considers it a privilege to improve the conditions at the facility in order to continue to boost residents' lives so that they can enjoy their golden years.
GINA said the bus is to be used to ferry residents to trips and other outings as well as to take them to receive medical care. A brief episode of the ceremony was hosted outside in order to facilitate the cutting of the ribbon at the northern entrance, which was done by resident Mr Chung. Also, the keys to the minibus were handed over to Singh and a guided tour of the cream-painted facilities was conducted.
The new section boasts a gym, canteen and library. A 52-inch flat screen TV, compliments of the United States Embassy, was installed in the canteen while a few books were packed on the shelves of the library. The administrator said the home would be grateful for donations of books from the public.
Around the Web