Peter Ramsaroop, Chairman of Vision Guyana has announced a bid for the office of the President of Guyana in 2011.
A release from his group said Ramsaroop in 2007 was the first to establish an exploratory committee on the 2011 elections. At that time, he announced the need for a government of national unity and that a unified opposition approach was necessary to unseat the current administration.  His acceptance of the appointment as CEO of the Alliance For Change (AFC) was a step to forge the broad alliance.  The decision by the AFC not to be open to a coalition approach coupled with their stance taken to not work with the main opposition party is the backdrop to the formation of the People's Partnership.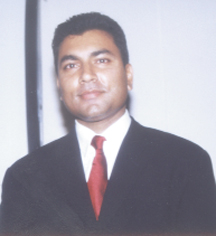 Ramsaroop said the party's  slogan is  "Together We Will". He added "`Together we will'  is the unity call for a new government,  a demand for a healthy economy resulting in positive change for our country.  It is the only way to offer a legacy worthy of the children of Guyana.  Even if no one else in the world sees our worth, we still know beyond a shadow of a doubt that we are a strong, intelligent and innovative people." Ramsaroop said that the People's Partnership believes that "our Guyanese Dream is Economic Prosperity – Together We Will stand up for our rights; it is our democratic privilege and our responsibility as citizens. We cannot allow Guyana to turn into a dictatorship once again.  Whenever we grow weary of the existing government, it is our constitutional right to replace it.  We cannot become wearisome in our belief that Guyana does indeed have a future. Our hearts are strong and our cause is noble; we can take Guyana back and set it on a course for which we can all be proud."
The release said a press conference will be announced shortly.
Around the Web