The murder trial of Paul Bagot, who allegedly stabbed his former girlfriend to death in September 2004, was aborted yesterday after it was established that the chief juror knows one of the witnesses.
Defence attorney Sonia Parag, who is representing Bagot in association with Hukumchand, made an application to the court for the trial to be aborted after it was found that the chief juror knew the murder victim's father, who is a witness in the case.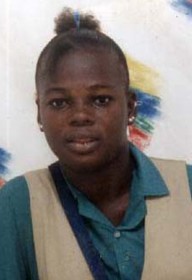 It is alleged that on September 29 at Middle Road, East La Penitence, Georgetown, Bagot murdered his then 16-year-old girlfriend Abigail Gittens. Bagot, also known as Paul Moore, was first charged for the murder on October 4, 2004 at the Georgetown Magistrates' Court.
The trial recently commenced before Justice William Ramlal in the High Court. A new jury will now have to be empanelled next week.
Prosecutors Rondel Weever and Shivanie Balcharan are leading the state's case.
On September 29, 2004, Gittens, a former student of the St. John's College, had just gotten out of a bus at Middle Road when she was attacked. The teen, relatives had told Stabroek News, was returning to her Lot 191 Middle Road home after attending a friend's birthday party.
Gittens was rushed to the Georgetown Public Hospital, where she succumbed to her wounds a day later. Before her death, reports further said, Gittens had related to her mother that she had just disembarked a minibus when she was hit by a motorcycle. Shortly after being hit, Gittens she felt a burning sensation to the neck and realized that she had been stabbed. Her attacker, according to reports, continued plunging a sharp object into her body even as she cried for help.
Around the Web