Tyrone Rowe called 'Cobra', the teenager arraigned on charges of murder,  armed robbery and damage to property made another appearance before the Georgetown Magistrate's Court yesterday and accused the police of injustices against him.
After being ordered to return to court on November 22 by Magistrate Fazil Azeez before whom he appeared, Rowe asked the magistrate to be given a chance to speak on some matters he said are affecting him.
Rowe's request was granted by the magistrate and for about 10 minutes the court heard from the defendant stories about what he termed injustices being meted out to him at the hands of the police, both at the Brickdam lockups and at the Camp Street Prison.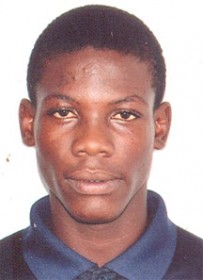 According to the defendant, the investigating officers close to his case made a cocaine deal with him in which he was to be given a quantity of cocaine to "transact some business"  for them in return for a minimal prison sentence on  the charges levelled against him.
Rowe said that this promise was made to him some six weeks ago but he has not yet received the illegal substance.
According to him, arrangements could have been made to have the cocaine delivered to his family since he is in prison.
Rowe, 17, a labourer of 268 Independence Boulevard, Albouystown said that none of the deals made between him and the police seem to be materializing while he is made to "suffer and pine away" in prison.
He stressed that he is no longer willing to take the "rap or go down for anyone," since no one has his interest at heart.
Rowe made it clear that it was time for the court and people far and wide to hear his story and be aware of the matters in which the police are involved.
According to the accused, every time he is taken to court the police involved in "these crimes" with him make a mockery of him by laughing and slapping false charges and allegations against him.
"Dem just laughing me cause I deh in jail now. Is now I realize that like me in get no cocaine fuh get from dem and suh I talking about all wah deh does do," Rowe said.
The court further heard from the defendant that he has been an informer for the police, because of the manner in which he is being treated at present.  Rowe said that he no longer wants to provide the police with further information.
"Meh worship, these police en no good, ah telling yuh de truth. Nuff people don't know wah deh does deh behaving with and wah prisoners does gah go through in the prison. Nobody don't tek we on, but God knows I talking the truth," the accused declared.
Rowe said that prior to his arrest for the charges he is facing at present, deals between him and the police had gone sour and as a result they wanted to "bring him, dead rather than alive." Knowing this, the defendant said that he decided to turn himself in alive as opposed to the police having to "bring him in dead."
After listening to what the defendant had to say, the magistrate advised him to make his submissions before the magistrate at his next court appearance.
Magistrate Azeez then told him that his matter will be called again on November 22 at Court Five.
The charges against the unrepresented accused allege that on August 5 at Plaisance, East Coast Demerara, he murdered Troy Collymore aka 'Colly'.
Further, it is alleged that on May 16 at Georgetown, being armed with a gun, he robbed Mark Hunte of two gold chains and a gold band valued at $160,000.
Also on March 1, being armed with a gun, Rowe allegedly robbed Troy Collins of $1,463,000 worth of gold and diamond jewellery.
Lastly, it is alleged that on September 4 at Brickdam Police Station, he unlawfully and maliciously damaged a one-way mirror valued at $1.4 million, being the property of the Guyana Police Force.
Around the Web