While investigations continue into the origin of the fire which left nine persons homeless in D'Urban Street, the occupants believe that arson is the likely cause.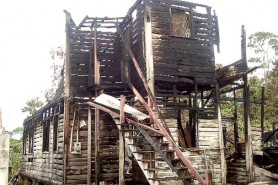 Shawn Prince and Fredrick St Hill who lived in one of the apartments, returned to the scene of their former home yesterday. They told Stabroek News, "we jus riding around, we ain't got anywhere to go." They lost everything in the blaze which began about 22:30hrs.
Prince said he was watching television around 22:00 hrs when he heard "popping sounds". He thought the sounds emanated from his neighbour's yard and paid no mind to them. However, as the sounds continued, he decided to check and encountered smoke. He quickly alerted the other occupants before running next door to get water to quell the flames. He said he saw flames coming from beneath the floorboards. The upper flat of the house was unoccupied. He said the Guyana Fire Service responded promptly and tried to save the building.
Meanwhile, St Hill is convinced that the fire was the work of arsonists who tried to steal his recently purchased bicycle which was in the house. He said that earlier he had to admonish a teenager from the area about borrowing his bicycle without his permission.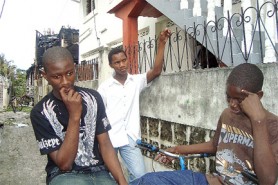 He related that while he was asleep he was awakened by knocking on the back door.  When he got up to investigate, he found his bicycle which he had left in the house, in the yard. He saw no one in the yard. He went back to sleep until he heard a sound which reminded him of the popping sound of eggs frying. When he awoke to smoke, he quickly helped to put his niece out of the window.
"We didn't get to save anything," St Hill said sadly. His sister Onica Prince and brother Deon Bascom were the other occupants of the house. "No stove din light, the current we have is safe, we don't use lamp. We were sleeping who else gun light the fire?" he asked.
Around the Web