HAVANA, (Reuters) – All 68 people on board an Aero  Caribbean plane were killed when it crashed in mountainous  central Cuba yesterday after issuing an emergency call, a  government website said today.
"There were no survivors in the plane," www.cubadebate.cu  said. "Its 68 passengers, including seven crew members, died  when the aircraft crashed."
The website published a list of the 40 Cubans and 28  foreigners from 10 countries who were on board.
It posted a photograph showing flames rising from the  shattered remains of the plane — an ATR-72-212 twin turboprop  built by ATR, a joint venture of Europe's EADS and Italian  group Finmeccanica.
Aero Caribbean is a state-owned regional airline. According  to www.planespotters.net, the plane that crashed was one of the  youngest in its fleet, at 15 years old.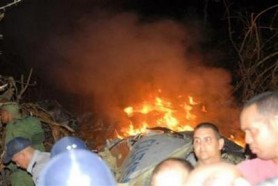 Witnesses said the plane made "several brusque movements  before falling to the ground," near the town of Guasimal in  Sancti Spiritus province, the newspaper Escambray reported in  its online edition.
The plane, Flight 883, left Santiago de Cuba in eastern  Cuba en route to Havana and went down at 5:42 p.m. local time  (2242 GMT). After making an emergency call, the plane lost  contact with air traffic controllers.
Rescuers began pulling bodies from the wreckage after using  a bulldozer to plow through thick vegetation to reach the crash  site.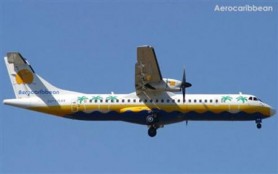 Medical facilities in the area, about 210 miles (338 km)  southeast of Havana, were put on alert to prepare for emergency  patients. But by midnight they were told to stand down because  no survivors were expected.
The air accident was Cuba's worst since Sept. 3, 1989, when  a Soviet-made Ilyushin-62M plane crashed after taking off from  Havana airport en route to Italy, killing all 126 people on  board.
The Cuban government website said the foreign passengers on board comprised nine Argentines, seven Mexicans, three Dutch citizens, two Germans, two Austrians, a French citizen, an Italian, a Spaniard, a Venezuelan and a Japanese. The seven member crew were all Cuban, as were 33 passengers.
Around the Web