-another knifed
An 18-year-old man was last night stabbed to death on the Georgetown Seawall after leaving his home to go see the Diwali motorcade.
Dead is Dwayne Durant of 60 William Street, Kitty, who was reportedly stabbed to the neck while a second man identified as Trevon Barrow was reportedly stabbed in the abdomen during the same altercation which claimed Durant's life.
The dead man's mother Rowena Pitman told Stabroek News at the Georgetown Public Hospital (GPH) that she was cooking at around 9.45 pm when a boy came by her house and related that her son had been stabbed.  The woman was too distraught to continue and the recounting was picked up by her daughter Onecka Floris.
"He come and call we and seh Dwayne jus get stab up. He seh was some old grievance between he and somebody.  They seh when they find he they push he ova de wall and he jus deh deh and nobody ain't know," Floris stated.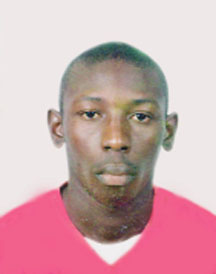 Tameka Campbell, a friend of Durant's relayed that it was she who took him to the hospital. She said she was passing in the vicinity of the seawall when she saw people bunched up in a particular area and investigated what the commotion was about.
"I ask a boy for excuse so I could see is who and when I go in I see is Dwayne. I ask if anybody carrying he to de hospital and who hollerin them ain't waan they clothes get blood hollerin they ain't waan no blame deh pon dem," she recounted.
She said she then asked two boys to fetch his body so she could stop a taxi and take him to the hospital but they were eventually transported by an NCN driver.
"On the way to the hospital he was still breathing. According to what I hear when we reach here and they tek he out that is when he died. I feel if I did go lil bit mo earlier I wudda get to save he life," a tearful Campbell said.
According to her, some of the same people Durant called friends were right there but none of them made a move to take him to the hospital.
Another of Durant's friends who was with him at the time, Kijanna Wharton, related that he took off his vest and placed it against his neck to try and stem the bleeding though he said he did not know who stabbed his friend.
"He and three ah dem had something goin on and then they chuck he off de wall and when they chuck he some man juk he up and run way … me ain't know de man … tha man is me bredren so I tek off me jersey an put it pon he neck," he said.
Durant worked at Footsteps at Charlotte and Camp streets and would have celebrated his 19th birthday on December 4. His father, Benjamin Durant recalled that it was only recently his son had said to him that his birthday was approaching and that he wanted to change his life.
Up to press time Stabroek News was unable to learn if anyone had been apprehended in connection with his killing.
Meanwhile, up to press time this morning Barrow was being treated at the hospital. Even as a crowd gathered at the hospital in relation to that case a man who appeared to have been chopped on his right shoulder was wheeled in.  He was identified as Naresh Roupaul of Annandale Market Road.
Around the Web