Thousands of Guyanese of all walks of life turned up outside the Campbellville Mandir and along the seawall as is customary to witness the well-illuminated vehicles which formed part of the annual Diwali motorcade last night.
At the 18:00hrs start time, at least 10 floats were already assembled but soon they were joined by the other well-lit and designed vehicles which had various depictions of Hindu gods and goddesses, especially Mother Laxhmi. The number of spectators who gathered increased steadily and represented a cross-section of the various races.
Roma Singh, an officiator told Stabroek News that the number of floats this year was an improvement on last year's entries. The entries were judged in the small, large and commercial categories. Twenty floats took part in the parade which eventually moved off from the Campbellville Mandir at 19:15hrs.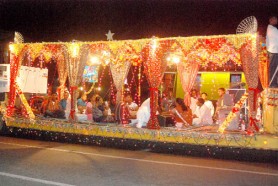 The majority of the floats participated in the small category and the participants were from various Mandirs in and outside of Georgetown.  In the large category, the float from the Edward Beharry Group of Companies was one of the impressive ones.
The floats were being judged based on their illumination, music, deportment and punctuality.  The judging points were at the mandir, Conservation Tree and at the LBI ground, which was to be the final stop along the route.
Even as the floats moved off from Sandy Babb Street, most of the crowd walked along or some opted to walk along Sheriff Street in order to get to the sea wall to watch the procession as it moved along the Rupert Craig Highway, on its way to LBI.
Tonight outside of GR taxi on Sheriff Street at 18:30hrs, one thousand diyas are expected to be lit in observance of Diwali.
Diwali is also known as 'the festival of lights', because on this day, people illuminate their home and premises with diyas which signify the triumph of light over darkness.
Around the Web