The administration is backing a plan which will see communities take a greater role in monitoring the delivery and execution of government goods and services, Cabinet Secretary Dr Roger  Luncheon said on Wednesday.
Speaking at his weekly post-Cabinet briefing, Luncheon stated that the Cabinet had endorsed an initiative to promote community activation, in pursuit of citizen security and social cohesion.
To achieve this, he said, structures would be established in identified communities and willcomprise primarily  residents already in the public service such as functionaries in the health, education, human services, and home affairs sectors. Other players would include Community Policing Groups, the Neighbourhood Police and divisional police with responsibilities in those communities, he explained. "They would constitute these structures that once they are properly organised and provided with liaison support from the Ministry of Local Government will contribute to those communities making greater and greater contributions to citizen security and to the social cohesion."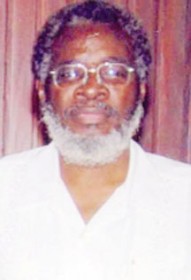 Luncheon added that the Cabinet recognised residents in communities who were involved in supervision and oversight of capital works and other works with public funds in their communities needed support and they will get this under these structures. He went on to illustrate a case at Vive-la-Force where residents brought an issue to the administration's attention, even before those appointed to supervise had knowledge of it. "We have the experience of what happened in Paradise (West Coast Berbice) where the community again in overseeing public works went even further and told the contractor no way in hell are we going to be here and see you taking a design and specification that we are aware of and foisting this travesty on the community and stopped them," he added.
He said it was this sentiment that Cabinet wants to mobilise and have inculcated in those communities that may not be so "charged" and as a result had to endure poor quality works.
The community activation, he said, also crosses into the social realm. "All de rum drinking and the deficiencies in the delivery of goods and services, who ain't watchin who; what has been implicated in the Neesa Gopaul death. These things Minister (Clement) Rohee pointed out point a finger at the communities and how they rise up and assume their civic discharge of responsibilities."
According to Luncheon, community activation is like "fertilizers" and the administration is anticipating that those communities which have already been mobilised could be used as examples.
He said the local government ministry and central government agencies will be used as liaisons to make interventions and to disseminate information. Donor support, he added, is available for such an initiative.
Around the Web