Almost two weeks after a report that major traffic lights in the city were on the blink, the situation remains unchanged but officials within the Public Works Ministry say that by next week the lights will be functional.
Vandalism and vehicular accidents remain the main cause for the destruction of the lights. On Wednesday, the lights at the junction of Camp and Robb streets remained blinking red as were those at the Camp Street junction with North Road and Church Street. Previously, when the lights were observed by this newspaper, they were not working.
Electrical Engineer Terrence O'Brian had told Stabroek News that the Robb and Camp streets installation was programmed in the flashing mode because it was found to be out of sync with the other lights along Camp Street and would have to be assigned to either the North Road or Regent Street grid. A regular review of the lights and traffic flow is done, O'Brian explained.
He said the light will remain flashing until a profile is developed on the movement of traffic. On Wednesday, O'Brian said that work is still being done to address the functioning of the light. He pointed out that there was some problem with cables which had to be identified underground. But he said that by Tuesday the lights should be working.
The Cummings and Regent streets lights, which were not working because of vandalism, are also expected to be operational by next week. The installation needed a new cabinet, which has been completed, O'Brian said.  The cabinet, he added, now has to be put in place.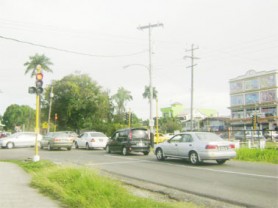 Meanwhile, it was noted that the Church Street and Vlissingen Road installations are now flashing yellow. A recent accident which knocked out one of the turn light indicators was the reason given by O'Brian for the lights going on flash mode.
Some lights like the Regent Street and Vlissingen Road ones are programmed to flash during periods when vehicular traffic is not heavy, O'Brian explained.
The traffic lights, officially commissioned on July 21, 2007, were installed by Indian firm CMS Traffic Systems Limited, through a US$2.1 million line of credit from India's EXIM Bank.
They are fitted with various features, including fixed time and vehicle actuated signals, directional green arrows and pedestrian push buttons.
To date, there have been 62 traffic light accidents, which have resulted in $9,373,778 in damage with only $680,000 in restitution. However persons who have not yet repaid the cost of damage may now face as much as $50,000 fine or ten months in prison after the Motor Vehicles and Road Traffic Act was amended. Section 61 of the Summary Jurisdiction (Offences) Act now states "anyone who unlawfully and maliciously commits any damage, injury or spoil to or upon any road, road structure, bridge, walkway, rail, traffic lights instillation or equipment…either public or private nature, shall be liable to a fine of not less than $30,000 nor more than $50,000 and to imprisonment for ten months and bear the cost…"
Around the Web