The preliminary results of the Diwali motorcade held on Thursday night revealed that the Mon Repos Mandir copped the first prize in the large category and walked away with $200,000 and a trophy. The second place was awarded to Station Street followed by the Balesar Family then fourthly the Cumberland, East Canje Mandir. The other prize winners in this category were awarded $150,000, $100,000 and $75,000 respectively.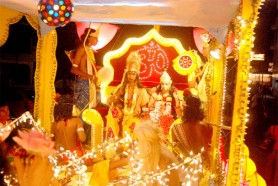 In the small category, which had eighteen entrants, the Murti Shop, Meten-meer-Zorg emerged as the winner followed by the Better Hope Mandir.  The third and fourth places were awarded to the LBI Temple and Dharmic Nauja.
In the commercial category, the Edward B. Beharry float placed first while the Regal Stationery Float was second.
No information was available on the prizes in the small and commercial categories. Additionally, this year a Designer Prize was awarded, however, a name for the designer was also unavailable. It is said that the designer worked on the Edward B. Beharry float.
Around the Web