– diya was left unattended
A fire which reportedly started from a lit unattended diya around 10:45 on Diwali night has resulted in the destruction of a two-flat, three-bedroom house at Armadale, West Coast Berbice.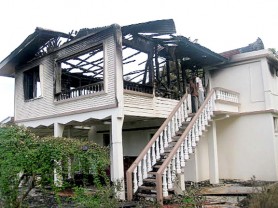 The lone occupant of the house, Rohan Kanhai, 28, told Stabroek News
that the diya was lit at his altar close to the window at the back of the house. A curtain probably blew into it, resulting in the blaze.
Kanhai said that within minutes the entire top flat of the wooden and concrete house was engulfed and he was unable to save anything.
At the time of the fire, he said, he was returning home from his uncle's house next door.
He said he saw the bright flames in the house, ran up the stairs  to investigate and felt the intense heat.
He also saw the fire spreading quickly from the curtain. He screamed out for the neighbours who formed a bucket brigade and made an unsuccessful bid to put the fire out.
Kanhai said he had already called for the Guyana Fire Service at Onverwagt, West Berbice but decided to drive there anyway to inform them again.
When he got there the firefighters were about to leave for the scene.
Kanhai recounted that he lit the diyas around 8:30 pm.
He said a stomach pain he was suffering from earlier had grown worse and he decided to go over to the uncle's house for two tablets. This was around 10:40 pm.
According to him, the front door of his house was left open and the louvre windows were partly open as well. He said the curtains were tied up, but he assumed that wind blew in through the door and caused the curtains to "drop."
He said the door to the bottom flat was closed but while the house was burning he had smashed the windows to gain access but was still unable to retrieve any of the articles.
The house belonged to Kanhai's mother who lives at Pigeon Island, East Coast Demerara. It was also fully insured.
Around the Web