– to recover blood during surgery
The Caribbean Heart Institute (CHI) has acquired a cell-saver machine which allows for blood recovery during surgery, and a medical team used the equipment for the first time during an open heart surgical procedure last week.
CHI also purchased two new heart-lung machines as part of a massive upgrade which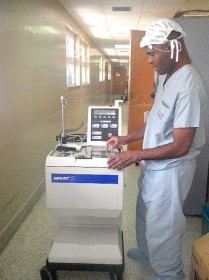 directors at the institute called "necessary." Surgeries were put on hold since May this year to facilitate the upgrade, but open heart procedures resumed last week when the team completed two heart valve replacements and a by-pass surgery.
Chief Executive Officer of CHI, Dr Gary Stephens told Stabroek News yesterday that the acquisition of the cell-saver machine was huge for the institute, because it allowed them to cut back on blood transfusions. He said that CHI had always had been cognisant of the amount of blood which was lost during operations as well as the blood which was needed.
"The blood bank is constantly in talks with us about how much blood is required for operations like these, and today we are in a position to say that we now have a machine which will allow us to recover a patient's blood and re-infuse it," Stephens said.
The BRAT cell-saver machine which is now at CHI makes it possible for the surgical team to collect, clean and save the blood a patient loses during and after surgery; it reduces the need for transfusions. The machine allows for autologous blood salvage, which is a medical procedure involving recovering blood lost during surgery and re-infusing it into the patient.
Stephens said the procedure worked fine during the operation last week and he reported that the surgery was done on CHI's first Jehovah Witness patient. Jehovah Witnesses do not accept blood transfusions in keeping with their religious beliefs, but cell-saver procedures are not prohibited.
Stephens said the machine upgrade was necessary because CHI previously had one heart lung machine and there was no back-up machine.
He explained that the machines came in the country in September and that technicians travelled here to check that everything was in place before surgeries resumed.
Earlier this year CHI had a waiting list of close to 40 patients for open heart surgeries, and the numbers remain the same. Surgeries are conducted every four weeks, sometimes every six weeks but the numbers are not reducing. According to Stephens, around 3-4 surgeries were completed every session but it is not enough to significantly bring down the total.
But CHI also has its limitations in terms of its capacity for surgeries and the bed strength at the institute. He said that the 4 bed Intensive Care Unit (ICU) barely accommodates patients, and since the institute had routine non-invasive procedures such as angiograms and angioplasties there was need for patient accommodation. Doctors at CHI complete around two angioplasties a week.
Stephens said that "even if we increase our capacity for surgeries" the institute would have no room to accommodate patients.  He said that many of the patients were repeats, noting that there were new persons but there were no current figures as to how many.
He said the institute was currently in talks with a Trinidadian cardiac institute to have a paediatric cardiologist join the team at CHI. He said that they were willing to share the cost of putting together a medical team for paediatric cardiac care which "we could share between Guyana, Trinidad and the rest of the Caribbean…"  Plans are still in place for paediatric surgery at CHI in January 2011.
CHI currently has on staff a resident interventional cardiologist and three internist doctors. Stephens said that the presence of the cardiologist meant that emergency cases could be dealt with. "If someone has a heart attack and they show up here we have someone who can address that on the spot," he told this newspaper.
CHI opened its doors here four years ago and it has been working on a comprehensive cardiac programme, including open heart surgery, angioplasty, angiograms and stenting, among other services.
Around the Web