As at October 31 (304 days into the current year) 116 murders were recorded, representing a rate of one death every two-and-a-half days. If this trend continues then it is possible that there will be about 24 more killings by the end of 2010.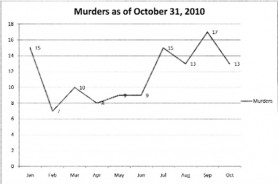 There has been an average of 12 (all figures rounded) murders every month since the beginning of the year to the end of last month. In February, seven murders – the lowest in any month so far – were recorded, while in September there was a high of 17 murders.
During October there were 13 murders – three of them involving female victims – which place the month in the high category, ie, more than 10. In both January and July there were 15 murders, and in August, 13.
Ninety-one of the 116 murder victims were males. Since the beginning of the year, shooting has been the leading method used by perpetrators to kill their victims. This was followed by stabbing and then wounding by some other means and thereafter by methods (under 10 deaths) such as chopping, battering, burning, drowning, electrocution, strangulation, suffocation and others
Almost 50% of murders up to the end of October were committed using guns. Gun-related murders which the police have not managed to solve started piling up in January with the executions of Vibert Weekes and Nicholas Hotye. Later in April, businessman Rajendra Motilall Sonilall was executed a short distance from his Mon Repos home, and then the body of Jamal 'Radio' Beete was found in an abandoned house in June.
However, the drive-by killing of five persons, including a child, in Cummings Lodge in September is the incident which has claimed the most lives up to now.  Attackers in two cars used high-powered guns and in a fusillade fatally wounded three-year-old Neil Jupiter, his parents Steve Jupiter and Fiona Singh, Christopher Gordon and Sherwin Jerome. Police said the three men were linked to illegal activities.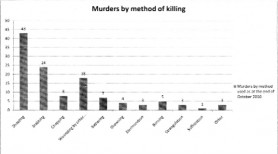 Just after the Cummings Lodge murders, Mark Caesar was executed in another barrage from high-powered weapons on October 1. Less than two weeks later Dexter Marshall, Jupiter's brother, was charged with Caesar's murder.
Four days after Caesar was killed, there was another execution-style shooting, which left Patrick Goodluck and his friend Godfrey Grootfaam dead.
Guns, especially the high-powered assault rifles used in the execution-style killings, seem to be readily available locally. Earlier this year, Crime Chief Seelall Persaud had told Stabroek News that illegal businesses which rent guns to criminals had become very popular. However, it is not clear just what the police have been doing to counter this particular illegal activity.
Several efforts to contact the crime chief for a comment on this issue have proved futile. This newspaper has been unable to reach Persaud for more than two weeks now.
Chopping was responsible for eight deaths so far this year. The recent rampage by a man who reportedly went berserk still lingers in the memories of Charlestown residents.
Late last month, William Light, allegedly went on a chopping spree killing Cedric Blackman and Ann Cham-A-Koon, and injuring Radesh Persaud and Sean De Souza.
Light has since been charged with two counts of murder and attempted murder.
Following the incident, residents had raised concerns about homeless persons, especially those who appeared to be suffering from psychiatric ailments, walking freely about the city with dangerous objects that could be used as weapons.
Around the Web