Sixty-one-year-old Julie Ramlall was a woman who many in the community of La Grange, West Coast looked up to and turned to for advice, so it came as a great shock when the retired headmistress took her own life on October 22.
The mother of three adult children ingested pesticide and died at the West Demerara Regional Hospital where she was rushed by her son.
Family members, when approached by this newspaper, were reluctant to speak about what might have led the woman to suicide, but admitted that she had been tormented by two relatives.
"Julie was a strong woman, she was a loving woman and she was always there for everyone, that is why it hurt so much when she died and we ask ourselves why," her sister Roxanne Sookhai told Stabroek News last week Friday, one day after Ramlall was laid to rest.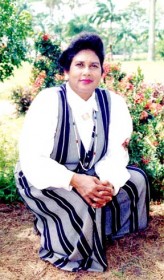 Sookhai, the owner of a catering and decorating company in the US, and another sister, Rajranie Jhtllu, also a retired teacher, in a letter to the newspaper denied a Kaieteur News report which stated that woman had been driven to commit suicide by the two family members who abused her.
However, Sookhai admitted to this newspaper that she did not live with her sister and as such was not sure what would have caused her to take her own life.
"It had to be something; they say she died as a result of ingesting pesticide… So it just hurtful that she felt she had no one to turn to and she took her own life," the woman said in tears.
She recalled that about two weeks before she died Ramlall had called her full of concern about her (Sookhai's) health because she was not well at the time.
"My sister called and she ask me why I working so hard and tell me I must slow down. She also asked me if I coming for Christmas because she wants some black cake…" Sookhai said.
While she said she heard nothing in her sister's voice to warn her that something was wrong, she did admit that the woman asked her to call the two family members and speak to them.
"She did not tell me what was wrong, and the day I got the news that she died was the day I was planning to call; I am telling you the truth," the woman said.
She was preparing for work when she received a call from her sister's daughter in Guyana informing her that her sister had killed herself. "I was so shocked I just started screaming; I did not know what to do because it was such a shock."
Ramlall was discovered lying on the floor by her son, who lived in the bottom flat of the two-storey house with his wife, and it was he who rushed her to the hospital where she died.
Sookhai refused to speculate why her sister killed herself but neighbours of the woman said the woman had been physically, emotionally and mentally abused  for a number of years.
She took it silently but from time to time would reach out to relatives, and on some occasions she moved out but would shortly after return to the home even though her three children were adults and one had migrated.  While she did not go into details about her problems, neighbours stated that some of the woman's family members were aware that she was not a happy woman and that she was being tormented.
Sookhai recalled that her father died when she was 12 years old and it was Ramlall who took her in and ensured that she got an education. Sookhai said she lived with Ramlall and her husband for many years and her brother-in-law was always good to her; she could not recall any problems.
"Our family was a very loving family; I don't know why this had to happen. We grew up with love," the woman stressed.
Ramlall lived at her La Grange home with her husband for some 40 years and it was there that she raised her children.
At her funeral, hundreds turned up to pay their respects and the tributes were glowing. She had been the head of two schools during her teaching career and many of her past students came.
Many kept asking why she took her life, but others said that the woman just could no longer take the abuse, which was in some cases alcohol driven, and she felt she had no options.
She was a woman of many friends and was always willing to assist and counsel those who were facing hard times, but in the end she felt that no one could help her with her problems.
"I am not accusing anyone; my sister is already dead and buried and I don't know why. But we leave everything in the hands of God. Those who drove her to it would have to live with their conscience for the rest of their lives. And it would bother them, it bothering them right now," Roxanne Sookhai said as tears rolled down her cheeks.
Around the Web