The Women of Worth (WOW) programme was launched in Region Five on Thursday to allow women to access low interest loans and the prospective applicants said they were happy with the initiative.
They told this newspaper that as the name suggests the opportunity to start their own business would make them feel "worthwhile." They said they always wanted to be independent but did not have the means.
Minawattie Shivcharran said she was finding it very hard to send her five children to school because their father does not "look after them."
She works part-time at the Blairmont Estate to "package sugar" and the money is barely enough for her to run her home. She plans to apply for the loan and invest in a chicken business.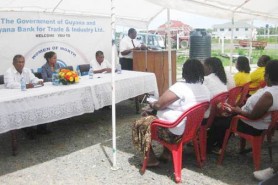 Another woman, Camille Semple, a ward-maid at the Fort Wellington Hospital told this newspaper that she too would take advantage of the opportunity to take a loan and would invest in a chicken business.
She plans that later she would establish a document centre. Semple said too that she has also been involved in a three-month child care training through the separate single parent programme and is earning a monthly stipend of $4,000 for that period.
The WOW programme is an initiative of the Ministry of Human Services & Social Security (MHS&SS) and is being conducted in collaboration with the Guyana Bank for Trade & Industry (GBTI).
At a ceremony held in the compound of the Regional Democratic Council, Head of Credit at GBTI, Shaleeza Shaw encouraged women to make the best of the opportunity as it would help them to establish, carry on or expand small businesses.
She took the opportunity to observe a minute of silence in memory of Salina Juman, one of 12 persons who died in the Corentyne crash two Fridays ago, saying that last month she had uplifted a cheque of $150,000 to assist with her poultry business.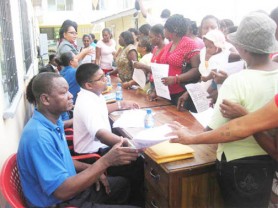 The women have two years to repay the loans which range from $100,000 to $250,000, at an interest rate of 6% per annum.  Shaw pointed out that applicants must be between the ages of 18 and 60, earning about $40,000 per month and must be registered with the ministry's Single Parent programme.
Since the launch of WOW in June last it has received good responses from women in Linden, Hampshire on the Corentyne, Anna Region on the Essequibo Coast and at Buxton, East Coast Demerara.
So far, 300 loans totalling $58M have been disbursed and there has been a repayment record of approximately 94%. The women who turned out in their numbers were told that they do not require any collateral to apply.
At the end of the launching the women flocked the desks of the GBTI staff to uplift forms and find out more about the loan.
In his address, Permanent Secretary of the MHS&SS, Trevor Thomas said since the commencement of the single parent programme almost two years ago they have been looking at a number of initiatives to empower women.
He said the programme would help them to live productive lives and not be dependent on male partners. He said WOW is still in the early days but he is sure it would see resounding success.
According to Thomas, "women have the potential of getting involved in business and have been successful." He also mentioned a woman who took a micro loan of $30,000 and has been running a successful plantain chip business.
Among those present at the event were other representatives from the ministry and Regional chairman and vice-chairman, Harrinarine Baldeo and Karran Persaud Deokarran.
Around the Web