STARR Computers has donated  over $200,000 worth of computer parts and accessories to the Government  Technical Institute (GTI) for use in its IT training courses.
The company  at 58 Brickdam, Georgetown said in a recent press release that the parts and accessories can be used as  teaching aids  in  the IT training courses that are offered at the institute.
STARR  noted that the GTI IT courses are playing  an integral part in moving Guyana forward with technology as  good training will provide the foundation for developing the country's  IT sector.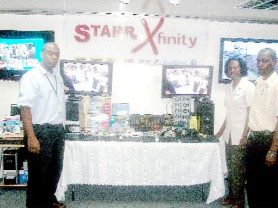 According to STARR, with the government's 'One Laptop Per Family' initiative there will be an opening for IT technicians to offer technical support.
STARR  said it would also like to extend support to the other technical institutes at Linden, Berbice and Essequibo.
Meanwhile, the company would like to collaborate with  the GTI science students through their attendance at  a forthcoming seminar on renewable energy.  STARR Computer noted that it  uses the sun's energy (solar power) to meet up to 60% of electricity needs and the seminar would include a brief overview of the solar installation and a field trip there.
The company has in its technical team two employees who are graduates of  the GTI, the release added.
Around the Web