Head of the Paediatric Department at the Georgetown Public Hospital Dr Clive Bowman said yesterday that the outcome of a hospital visit for every pregnant mother should be positive, but there must be room for "the cases where one party might not survive".
Recent maternal and infant deaths at the public hospital are cause for concern, Dr Bowman said, noting that the outcome should be "safe deliveries, healthy babies and healthy mothers".
Since his area is paediatric care Bowman would only get involved after a baby is delivered at the public hospital. He told Stabroek News during an interview yesterday that he was in no position to comment on maternal deaths or what transpired in the system prior to deliveries.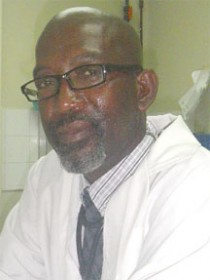 Dr Bowman would also not comment on the attitude of some doctors at the hospital, but he stressed that the profession calls for compassion and serious commitment.
He said every patient who enters the hospital whether it is a pregnant mother or [an accident victim] should be afforded the best care available "even if it means going the extra mile".
He continued, "…We as doctors should show concern for the affairs of every patient… I am not happy when babies die at this hospital, but there are times when we do all we could and we still lose them," Bowman said.
With respect to services at the public hospital, Bowman related that the administration has been working on upgrading equipment and generally improving the care which is available. He noted that attention has also been paid to training staff, which he identified as a critical area in improving services at the hospital.
Bowman had no statistics on neo-natal deaths at the hospital, but he pointed out that recent reports indicate "they are up". He said it was unfortunate that babies are dying, adding that "they should leave the hospital with their mothers alive and healthy".
He noted that some babies do not survive for various reasons.
Commenting on the case involving Savita Paltoo, Bowman said he was involved after the child was delivered and according to him, the baby had several serious complaints and had a very slim chance of survival.
He said there were indications of foetal distress prior to Paltoo being wheeled to the operating theatre where she delivered the baby normally. A C-Section was recommended in Paltoo's case.
Bowman said he could not comment on why the woman was not given a C-Section earlier, but there is a possibility the baby might have had fewer complications if Paltoo had the operation as recommended. "I cannot comment on this because I was not involved at that stage," he stated.
Bowman said he had several discussions with Paltoo about the baby's chances, noting that there was a depression in the baby's respiration and signs that the infant's brain function was not normal. He said too that there was presence of meconium in the baby's lungs; meconium is the first stool of an infant.
Paltoo's baby subsequently suffered cardio-pulmonary arrest and was transferred to the Intensive Care Unit (ICU). He said the hospital stayed in constant contact with Paltoo informing her that the baby was critical and that there were no signs he was improving. "I know what they wanted to hear, but I couldn't tell them that," he added.
It is estimated that infant deaths at the Georgetown Public Hospital as of this week are higher than the corresponding period last year, in addition to the number of stillbirths.
The hospital had no statistical information to provide when Stabroek News made a request yesterday, but Chief Executive Officer Michael Khan promised that the information would be forthcoming.
The hospital also had no information on how many maternal deaths were recorded for the year so far; again the number is estimated to be higher than the same period last year.
Khan said he was concerned about what is happening at the hospital when questioned yesterday, but referred all questions to Director of Medical Services Dr Madan Rambarran who was not in office yesterday.
Khan also had no information on the investigations conducted into recent maternal deaths at the hospital including the death of GPHC nurse, Charlene Amsterdam. However, this newspaper was told by a hospital source that the report on Amsterdam was completed within days of her death and submitted to the Ministry of Health.
This newspaper was unable to make contact with Health Minister, Dr Leslie Ramsammy and or Chief Medical Officer, Dr Shamdeo Persaud.
Ramsammy had said that he felt as though he had failed because of the spiraling number of maternal and infant deaths across the country.
Within the last two months an alarming number of maternal and infant deaths have been reported at Berbice, at Linden and also in the city.
Around the Web