PORT-AU-PRINCE, (Reuters) – A cholera epidemic that  has killed nearly 600 people in Haiti has gained a foothold  in earthquake-ravaged Port-au-Prince and is expected to spread  widely and quickly in the sprawling city of 3 million people,  health authorities said today.
The three-week-old epidemic, which had mostly hit Haiti's  rural central regions so far, now menaced crowded slum areas of  the capital, as well as tent and tarpaulin camps there housing  more than 1.3 million survivors of the Jan. 12 quake.
"The disease has reached the metropolitan area," Gabriel  Thimote, the director general of Haiti's health department,  told reporters in Port-au-Prince.
The spreading epidemic, which experts predict will be  worsened by flooding caused by Hurricane Tomas earlier this  month, has piled another humanitarian emergency on the Western  Hemisphere's poorest state as it struggles to recover from the  devastating earthquake that killed more than 250,000 people.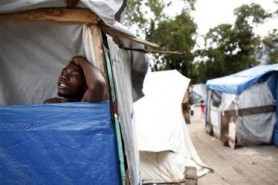 Presidential and legislative elections scheduled for Nov.  28 in the Caribbean nation are set to go ahead.
Thimote said 115 cases and one death had been recorded at a  hospital in the city's biggest slum, Cite Soleil, a labyrinth  of brick, wood and tin-roof shanties bisected by rubbish-choked  canals draining into the sea.
Pan American Health Organization (PAHO) Deputy Director Jon  Andrus said that the Haitian capital, which even before it was  wrecked in the January earthquake had suffered from very poor  sanitary conditions, was "ripe" for a rapid spread of the  diarrheal disease, which is transmitted by contaminated water.
"We expect transmission to be extensive … we have to  prepare for a large upswing in numbers of cases," he told a  news briefing in Washington.
Andrus gave a figure of 73 cholera cases in Port-au-Prince,  and said PAHO, the regional office of the World Health  Organization, was working with local Haitian health authorities  to reconcile reporting of cases.
Up to Nov. 7, cholera had killed 583 people in the country  and sickened 9,123, Haiti's health ministry said.
The United Nations and aid agencies and private NGOs have  set up special cholera treatment centers in the country,  including Port-au-Prince.
Andrus said facilities were "stretched but sufficient."
"We expect patients to be treated in tents, in hospital  compounds, outside the walls," he said.
He said vaccination was being ruled out at the moment, both  because existing oral vaccines for cholera were not effective  in the midst of an epidemic and on grounds of logistics, cost  and training requirements.
There were also limited global supplies of the anti-cholera  vaccine, Andrus said. Cholera can kill in hours, but if caught  early can be easily treated through oral rehydration fluids.
Making a comparison with a previous cholera epidemic in the  Americas that had started in Peru in 1991, the WHO official  said "upwards of 270,000 cases" could be expected in Haiti if  the epidemic ran for several years.
Around the Web