Fire of unknown origin yesterday afternoon gutted two houses at Golden Grove on the East Coast Demerara (ECD) leaving 16 persons homeless.
Reports are that some time after 2 pm yesterday, smoke was seen emanating from the top flat of one of two houses at Lot 112 Jeune Street,Golden Grove and within the matter of minutes the house, along with another nearby, was  reduced to ashes.
The two houses belonged to the Carol Jones and her three siblings, Aubrey Josiah, Roshell Josiah and Shan Josiah who had been living at the location since they were children.
Jones, a mother of two children, aged 13 and 9, told Stabroek News that she was at her workplace in the city when a neighbour asked her whether she knew that her home was on fire. She said she then hurriedly left the city for the ECD.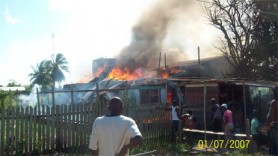 Jones said that while entering Golden Grove, she observed thick smoke in the air above her home and while persons were comforting her in the minibus, she knew that the situation was dire. She said when she arrived at the scene, all that stood at the site were the concrete columns which supported her home. She said that the fire service did respond to the fire but when the unit arrived the houses were already gutted.
A composed Jones explained she lived in the top flat of the house where the fire started while her sister Roshell lived downstairs with her three children. She said it was Roshell who raised an alarm after she heard cracking sounds at the top flat of the house. Jones was puzzled as to the origin of the fire, stating that no one was at home in the top flat at the time and electrical devices are usually disconnected when the family leaves the house.
She said the wind assisted fire spread to the other house in the yard and while her brother Aubrey desperately tried to save his belongings , he too lost everything, "even some clothes and furniture he try to put in the backyard".
She said the both houses were furnished noting that, "it would be difficult to start over from scratch". She said personal documents were consumed by the fire but, "I confused but at the same time happy no one get hurt".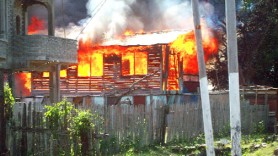 Neighbours said that all seem quiet in the community until persons observed the wooden house on fire. It was noted that on Sunday, another house, which stood two streets way from the Josiahs' residence was gutted by fire. Residents told Stabroek News that the community had been experiencing fluctuation of power supply since Saturday.
Members of the Guyana Fire Service were conducting investigations into the incident yesterday afternoon, while the affected families searched the rubble to salvage any valuables.
Anyone who wishes to assist the victims of this most recent fire can contact the family via mobile numbers 687-6587 or 680-4239.
Around the Web