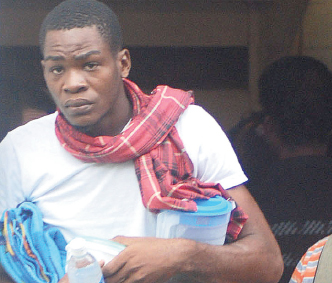 Victor Bobb, the injured suspect who was apprehended shortly after an attempted robbery at Chateau Margot left a businessman and an attacker dead, was moved to the Sparendaam Police Station yesterday to be jointly interrogated with another suspect.
Commander of Police C Division, Assistant Commissioner Gavin Primo explained that Bobb was discharged from the Georgetown Public Hospital (GPHC) and taken to the Sparendaam Police Station. Bobb, the commander explained, will be questioned along with Quincy Arthur; another suspect who was arrested on Tuesday. The men, he said, will also be placed on an identification parade.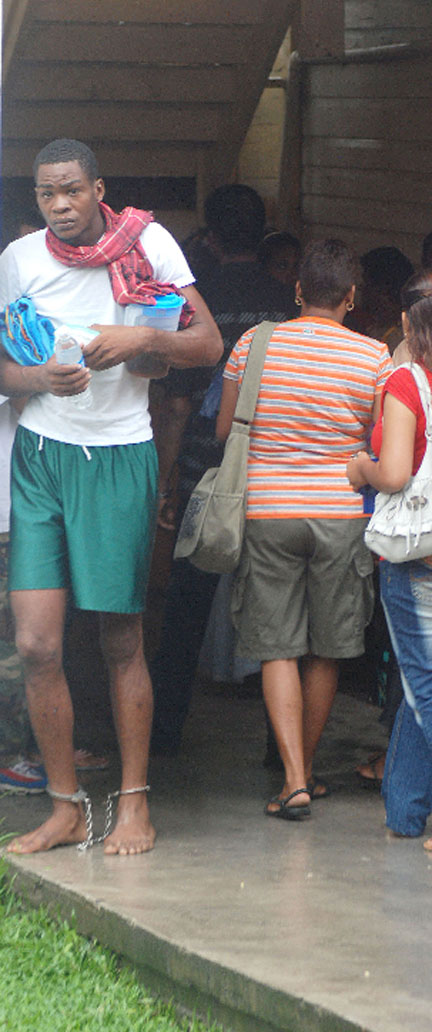 A third accomplice was fatally wounded and Primo told Stabroek News that the body remained unidentified up to last evening.
A relative of Bobb told this newspaper that her two sons and a tenant were taken into police custody for questioning yesterday afternoon.
Bobb is alleged to have been one of six men who attacked the L&D Sales Centre in Second Street, Chateau Margot on Tuesday morning. He was reportedly armed with a gun and fatally shot businessman Dennis Ramah after the man chopped him to the shoulder.
Desiree Bobb, the injured man's mother, told Stabroek News at GPHC just after noon yesterday that her son still had a bullet lodged in his right leg and she does not believe that he is in any condition to be moved around.
Since Bobb was admitted to the medical institution on Tuesday, the woman said, he has not been seen by any doctor nor has he been recommended for surgery. The woman further said that when she questioned police about whether they intended to charge Victor they told her that they were given no such instruction.
Her son, Desiree said she learnt from police, was taken to Sparendaam to "assist police with investigations". The woman said that she was further told that Bobb would be kept there and she was allowed to take him meals during regular visiting time.
"I don't know how they could take him there in that condition," she said and added that, "I really don't know is what happen so I really can't tell you if I believe he do this or not."
When Stabroek News visited GPHC just before noon yesterday several police officers were present and a van was parked outside the entrance of the Male Surgical Ward where Bobb had been admitted. Several minutes later Bobb, with the assistance of police, made his way to the vehicle. The man's feet were shackled.
Another relative, who declined to have her name published, told Stabroek News last evening that she was the last person to have contact with police about the matter. Bobb, she said, remained in custody and officers at the Sparendaam Police Station informed her that he may possibly be charged today.
Meanwhile, she further said that after Bobb was moved from GPHC a van load of police went to her Georgetown home and picked up her two sons along with a male tenant. The men, according to her, were taken to the Brickdam Police Station for questioning.
"I ask them is why they take these men to the station and up to now they can't answer me," the woman said adding that, "I feel is because they know we related to Victor they trying to harass we because they think we have information but we don't know nothing."
Bobb: the alleged gunman
Bobb, police said in a release after the Chateau Margot incident, was picked up in the La Bonne Intention (LBI) area which is a short distance from the attempted robbery scene. According to police, it was Bobb who was armed with the gun while another of his accomplices was armed with a knife.
While close circuit television (CCTV) footage has been made available to police it is unclear whether they have been able to positively identify anyone.
Nigel Ramah, son of the dead businessman, told Stabroek News that on Tuesday morning a man came to buy an item. A short time later five men showed up and held up employees in the lower flat business place and took them to the upper flat where Dennis Ramah's family members were.
Dennis, who was not seen by the five men, armed himself with a cutlass and attacked one of the bandits on the back stairway. In retaliation the bandit  shot the elder Ramah twice.
Neighbours told Stabroek News yesterday that they were alerted by screams coming from the Ramah house and then by the gunshots. A woman, who lives close by, said that it was she who called police.
"I hear them screaming and then I hear the gunshots and right away I decide to call BV (Beterverwagting) Station," the woman recalled. "Before the police coulda reach though I see about four men come shooting out Ramah them yard."
One of the men, the woman recounted, was bleeding and it was in his hand that she noticed a gun. She said that after the men ran out of Second Street, Chateau Margot and towards the railway embankment she did not see anything else.
"I know another man get lef' in Ramah them yard and them boy attack he because he ain't had no gun or nothing," the woman said.
Chairman of the Chateau Margot Community Policing Group (CPG) Davenand Shyamraj confronted the four men as they dashed along the Railway Embankment road and an exchange of gunfire followed. Shyamraj and Daniel Muller, a 72-year-old man who was passing by at the time, were injured.
Bobb, who was the only armed suspect, was the one to exchange gunfire. There has been no word from police about whether the firearm used during the attempted robbery and subsequent shoot-out was recovered.
Around the Web