Frustration over his spreading cancer and the pain associated with it may have prompted well-known gold and diamond dealer Joseph Hillaire called `Uncle Joe' to take his own life on Tuesday night.
Hillaire who owned Hillaire's Jewellery and Gift Shop, was found in his Lot 22 Chalmers Place, Brickdam home around 22:00 hrs with a single gunshot wound to the head.
Police said yesterday that they are investigating the circumstances surrounding the death of the 72-year-old man and a post-mortem examination is scheduled for Friday.
A police press release said the man who was also a licensed firearm holder was found in the bathroom of his home with a "suspected gunshot wound" to his head. His licensed revolver with five live rounds and a spent shell was found next to the body.
Hillaire was taken to the Georgetown Hospital where he was pronounced dead on arrival.
Yesterday, his son, Joseph Hillaire Jnr said his father had never displayed signs that he wanted to take his own life.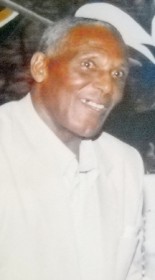 He said his father had been suffering from colon cancer for nearly four years now and had been travelling to Trinidad for regular chemotherapy treatments.
Fighting back tears, he said that apparently the treatments were not working as tests revealed that that there was another tumour and that the cancer had spread to his lungs and kidney.
The younger Hillaire recalled that last week his father returned from Trinidad where he had undergone several rounds of chemotherapy. When his father returned from the trip, the son said, he had said that 90% of the pain in his body was gone. Stabroek News was also told that the man recently told his daughter that he couldn't bear the pain.
Recounting what transpired on Tuesday night, the younger Hillaire said he was in the shower when he heard a sound but dismissed it as something falling on the roof. He said the sound was not very loud.
About five minutes later, his mother who was watching television in another room went to check on his father, he said, but she did not see him. Several more checks were made in the room subsequently but he could not be found.
According to the son, his mother subsequently rapped on the bathroom door which was ajar but got no answer.
When she pushed it open, she saw her husband near the bath tub. His gun was on the ground, the man added.
Uncle Joe, as he was popularly called, had been mining most of his life.
He leaves behind his wife Bibi, three children and a stepdaughter.
When Stabroek News visited his home, a black flag was flying in front and several persons had gathered to offer their condolences to the family.
Around the Web