A Corentyne labourer was on Tuesday night found mortally wounded at a temple close to where he lived at Number 63 Village with chop wounds about his body and police have since detained three of his relatives.
The police said that they are investigating the circumstances surrounding the death of Guyadatt  Naryan Joseph called 'Reuben', 44, of Lot 48 Number 63 Village, Corentyne. In a statement, the police said that Joseph was found at about 7:15pm on Tuesday at the Kali Temple at Number 63 Village with injuries to his head and hands.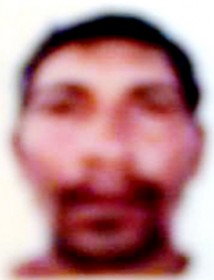 He was taken to the Skeldon Hospital where he was pronounced dead on arrival. The body is at the Skeldon Hospital Mortuary awaiting an autopsy while three men have been arrested and are in custody assisting with the investigations, the statement said. Reports said that the body bore multiple chop wounds including to the head and hands.
Joseph's wife, Nandkumarie Joseph called 'Nando', 42, said she had last seen her husband at around midnight last Friday. She said that they had a misunderstanding and he had left the house. She said that earlier that evening, her husband had come home intoxicated. According to her, most times when Joseph is under the influence of alcohol, he would misbehave and sometimes leave the home and Friday was no different.
Nandkumarie said that last Friday, Joseph started to fight for food and when he was offered the food he refused it and started to fight, beating her with a door bar. He then left the house. She said that she heard nothing from or about him until around 8:30pm on Tuesday when his sister who lives nearby went to her parents' home in tears and informed them  that someone had chopped Joseph and he was at the Kali Temple at the beach. The woman did not say who had informed her.
Joseph's daughter, Devika, who lives at Number 48 Village, Corentyne, told reporters that she had not seen her father for a few weeks. She stated that although they were poor, her father was strict and loving, but when he drank, he would "behave badly".
Devika recalled that she was told that after her parents had fought, her father left the house and went to stay at the Kali Temple, something which, according to her, he usually did. She said that she learnt that the three arrested persons were going to the Temple for religious observances when they discovered Joseph's body.
It was in a corner of one of the buildings in the temple's compound. Devika said that she was told that at the time, her father was still alive. He was picked up and rushed to the Skeldon hospital where he was pronounced dead on arrival.  Blood was found in the building in the compound.
He was the father of four: two boys and two girls. Police are continuing their investigations.
Around the Web